Knives - accessories, sharpeners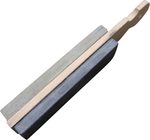 Knives - accessories, sharpeners
Knives - accessories, sharpeners, gift boxes.
Ceramic sharpener from the legendary manufacturer of rifles, Walther, USA.
Hand made sharpening stone from a sandstone. Manufactured in the Carpathian mountains. Size: 24 cm.
Handmade Traditional Style Sharpenig Stone.
Material: granulated shale, coarse-grained sandstone, wood
Size: 2.5 x 17 cm
Sharpenig stone with two different surfaces - fine granulated shale and coarse-grained sandstone for all types of knives, daggers, seaxes etc.