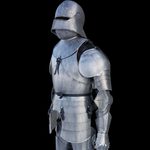 Lacing Leather Roman Bracers with a hand-carved Roman eagle and metal studs. Length: 18,5 cm. Handwork. Hard leather.
Linothorax is an upper body armour worn by the Ancient Greeks made of linen glued in layers with animal fat. This linen Cuirass is associated with Alexander The Great. It has an etched metal plate at the waist giving it a more ornamental look. This cuirass is fully wearable and can be used for…
Inspired by Maximus's bracers in the movie Gladiator, this item is not a historical reproduction (there is no evidence of roman people wearing any kind of leather bracers), but only a simple adaptation from a known movie. It's shape makes it agreable to wear. It had been done by hand, from the…
Classic Greek (Italo Corinthian) brass helmet with blond plume. Corinthian helmet originated in ancient Greece and took its name from the city-state of Corinth, made from bronze. A large curved projection protected the nape of the neck. Material: 1.3 mm brass 
The Coolus helmet is a type of Celtic and Romanbrass helmet. Like the Montefortino helmet this helmet was of Celtic origin.
Material brass
Weight 1.5 kg
Greek metal shield - hoplon, covered with leather. Diameter: 58 cm.
High Quality Roman Leather BRACERS with Lion's Head and Lacing covering the whole forearms. Material leather, pewter Width 20.5 cm Adjustable Price is per pair
Greek - Roman muscular breastplate. Material: Steel (1.2 mm). It includes front and rear breastplate.
Phrygian helmet (some sources say Thracian), popular with the Macedonians during Alexander's time.  
A galea is a Roman soldier's helmet, whose desing was inspired by Celtic helmets.
Size: height 60 x 80 cm. Three layers of 3mm thick high quality beech plywood was used.
Plate Shoulder of a Gladiator. Material: steel.
Gladiator´s armour with aluminium phalerae.
An ancient Greek helmet reproduction, of the Spartan type.  Imported.
Reenactor's Roman Legionaire's helmet.  
Roman early imperial legionary shield. Size: 84 x 106 cm.