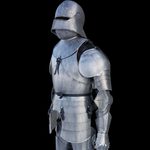 Pair of hand-carved leather bracers in a Celtic style with Pictish boars (this motive you can see in Scotland, Dunadd, Argyll, 7th century). Overall size: 18.5 cm. Handwork. Hard leather.
Celtic Fantasy brass helmet. Richly decorated helmet for theatre and film.
Size: height 60 x 80 cm. Three layers of 3mm thick high quality beech plywood was used.
Montefortino type Celtic - Roman helmet.  Collectible replica.  
Iron Age Celtic Helmet Port Bei Nedau, collectible replica.
Hand made CELTIC HELMET.  
Material 18 gauge steel
Manufactured in the Czech Republic
Wooden shield of the Pictish tribes. Shield is made from plywood and forged iron shield boss. Orders for custom made shields are accepted - you can order shield with linen on the surface, with rawhide edges - plain shield or painted shield after your request. Price for the shield is without…
LORICA HAMATA, riveted and punched chains. One piece in stock in a small size. Suitable also for patches.
Replica of a Celtic Montefortino Helmet.
Reproduction of a Celtic Helmet from Great Britan, the so called Meyrick Helmet. This reproduction is made from iron with patina Handmade in the Czech Republic
Large hemispherical iron helmet, decorated avantail is attached by rivets.  
Includes two bosses
Patinated
Made from 18 gauge steel
So called "Celtic helmet of Eastern type", originally made of brass. If you are interested in this product please contact us and we will send you a photo of the original helmet and more information. Price is for basic version (without patina and horse tail)
Lacing Bracers with a Hand Carved Celtic Knot from quality hard leather.
Material: leather
Length: 12 cm
Handmade
Price is per pair
Gallic helmet for reenactors. The original was found on the locality of Bela Cerkev (Slovenia) and it is one of the most famous helmets in Celtic literature. The bosses are decorated with images of birds.   Material: iron with patina
LH replica of celtic shield that was found in French locality of Bobigny (2nd century of old age). Plywood shield is covered and rimmed with rawhide, forged umbo. Wooden central ribbon. Size: 110 x 50 cm, convex shape. This shield was sold to the University of Sorbona.
Replica of celtic shield of plywood, rawhide, forged umbo and wooden central ribbon. Size: 110 x 50 cm. Convex shape.
Resistant replica of celtic shield of plywood, rawhide, forged umbo, iron edging and wooden central ribbon. Size: 110 x 50 cm. Convex shape.