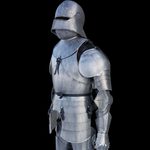 Size: height 60 x 80 cm. Three layers of 3mm thick high quality beech plywood was used.
Exclusive hand made shield with the BOHEMIAN LION (double tailed lion) as an interior decoration. Size circa 45 x 54 cm. Iron plate with patina.
Hand made shield with the double-tailed lion - national symbol of Bohemia (part of the Czech Republic).  Size of the shield: ca 50x60 cm.  Thickness 0.8 - 1mm.  For decorative purpose or LARP fighting.