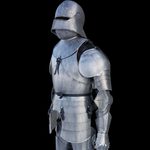 This Imperial Gallic Face helmet is a copy of an original museum helmet that is now part of the Shelby/White Collection NY USA. The helmet is an early Augustian period cavalry helmet. The mask is of the Kalkriese type, which fits beneath the cheek guards and it does not include integral ears.
Inspired by Maximus's bracers in the movie Gladiator, this item is not a historical reproduction (there is no evidence of roman people wearing any kind of leather bracers), but only a simple adaptation from a known movie. It's shape makes it agreable to wear. It had been done by hand, from the…
High Quality Roman Leather BRACERS with Lion's Head and Lacing covering the whole forearms. Material leather, pewter Width 20.5 cm Adjustable Price is per pair
High quality hand made Roman leather bracers with a bronze eagle (Aquila). Length: 20.5 cm. Price is per pair.
The lorica segmentata (segmented cuirass) is a type of personal armor used by soldiers of the Roman Empire. Material thickness: 1.2 mm.
Size: height 60 x 80 cm. Three layers of 3mm thick high quality beech plywood was used.
Gladiator´s armour with aluminium phalerae.
Reenactor's Roman Legionaire's helmet.  
Montefortino type Celtic - Roman helmet.  Collectible replica.  
Collectible quality Roman helmet, the Imperial Gallic H, Augsburg-Oberhausen. This helmet is classified by Robinson as Imperial Italic H and is one of the best-preserved Roman Imperial helmets to have survived from antiquity. The Gallic H has different style eyebrows and a more sloping neck…
Reproduction of a Roman cavalry helmet, found in Xanten, now in Germany. The original is now exhibited in the Landesmuseum in Bonn.
Handmade gladiator helmet. For theatrical combat.
Material 1.5 mm thick steel    
Can be made with patina (see picture) or polished