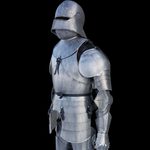 This Imperial Gallic Face helmet is a copy of an original museum helmet that is now part of the Shelby/White Collection NY USA. The helmet is an early Augustian period cavalry helmet. The mask is of the Kalkriese type, which fits beneath the cheek guards and it does not include integral ears.
Inspired by Maximus's bracers in the movie Gladiator, this item is not a historical reproduction (there is no evidence of roman people wearing any kind of leather bracers), but only a simple adaptation from a known movie. It's shape makes it agreable to wear. It had been done by hand, from the…
The Coolus helmet is a type of Celtic and Romanbrass helmet. Like the Montefortino helmet this helmet was of Celtic origin.
Material brass
Weight 1.5 kg
High Quality Roman Leather BRACERS with Lion's Head and Lacing covering the whole forearms. Material leather, pewter Width 20.5 cm Adjustable Price is per pair
High quality hand made Roman leather bracers with a bronze eagle (Aquila). Length: 20.5 cm. Price is per pair.
A galea is a Roman soldier's helmet, whose desing was inspired by Celtic helmets.
Plate Shoulder of a Gladiator. Material: steel.
Gladiator´s armour with aluminium phalerae.
Reenactor's Roman Legionaire's helmet.  
Roman early imperial legionary shield. Size: 84 x 106 cm.
Roman Praetorian or Tribune's helmet, of collectible replica quality.
Collectible quality Roman helmet, the Imperial Gallic H, Augsburg-Oberhausen. This helmet is classified by Robinson as Imperial Italic H and is one of the best-preserved Roman Imperial helmets to have survived from antiquity. The Gallic H has different style eyebrows and a more sloping neck…
Historically accurate and authentic design, copy of the Imperial Italic, D. Mainz Roman helmet. Suitable for reenactors. Made of 18 gauge steel  
Collectible replica of a Roman gladiator's helmet.  
Reproduction of a Roman cavalry helmet, found in Xanten, now in Germany. The original is now exhibited in the Landesmuseum in Bonn.
Montefortino type Celtic - Roman helmet.  Collectible replica.  
Wooden shield from the late Roman period. Shield is made from plywood and forged iron shield boss. Orders for custom made shields are accepted - you can order shield with linen on the surface, with rawhide edges - plain shield or painted shield after your request. Price for the shield is…
This GLADIATOR HELMET is a copy of a helmet found in Pompeii (now deposited in Museum of Naples). IMPORT. Intended for the thetre or as a decoration. Material 18 gauge steel Weight 3.5 kg ( 7.7 lbs)
Roman, respectively gladiator living history shield. Height: 70 cm. Materials: plywood, forged iron umbo, iron edging, convex shape.