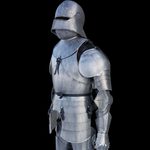 Hand made great helmet with brass. Partially blackened.
Material 1.5 mm thick steel plate
Horse Armour as a unique decoration for your home, business or, indeed, the stables.
material metal plate
size 23 x 51 cm
Combat Gauntlets. One pair of high-quality gauntlets that are fully usable in battles. 1.0 mm thick steel., leather gloves are not included in price. Hand made in the Czech Republic. Our Bestseller.
Fantasy helmet in a viking style with brass. A unique design and a high quality product of Czech armourers.
Hand made viking helmet for re-enactors.   Double protection of the top of the helmet Face is decorated Material thickness 1.5 mm Always use a lining
Hand made norman helmet. Material thickess 1.5 mm Double protection of the top of the helmet Face is decorated with brass Always use a lining
Hand made norman helmet for re-enactors.   Double protection of the top of the helmet Face is decorated by brass Thickess 2.0 mm - better protection in tougher re-enactment fights Always use a lining
Hand made norman helmet for re-enactors.   Double protection of the top of the helmet Face decorated by brass Helmet thickess 2.0 mm - better protection in tough re-enactment fights Always use a lining
Hand made norman helmet for re-enactment. Double protection of the top of the helmet Decorated by hammering Helmet thickess 2.0 mm - better protection in re-enactment fights Always use a lining
Hand Made Viking Helmet for re-enactor's and collectors featuring double protection of the top of the helmet and decorated face as well as: raised edges for eyes for better deflection of strokes convex nasal and frontal head stripe parts of helmet (fields) are tempered and hardened  helmet…
Hand made viking helmet for re-enactor's and collectors. Double protection of the top of the helmet. Decorated face. This helmet features: raised edges of eyes for better deflection of strokes convex nasal and frontal head stripe parts of helmet (fields) are tempered and hardened  helmet is…
Material: 1.5 mm iron plate
Fully Functional Finger Gauntlets with Leather Glove Inserts. Steel thickness: 1.5 mm Leather gloves glued, and on the finger-tips sewn, onto the steel Double steel thickness on the back of the hands
Fencing Glove (Leather Combat Gauntlet) of exceptional quality to reduce the risk of injury of the hand during sword combat. Made by fencers for the fencers Great emphasis has been placed on the thickness of the material and the anatomy of the glove so you can grip your sword easily Price is for…
Leather Combat Gauntlet Fencing Glove of exceptional quality to reduce the risk of injury of the hand during sword combat. Made by fencers for the fencers We put great emphasis on the thickness of the material and on the glove anatomy - you can grip sword easily Price is for one glove for the…
Hand made viking helmet for re-enactment and training. Manufactured by Wulflund. Double protection of the top of the helmet Material thickness 2 mm Aventail length 20 cm, riveted chains 8 mm in diameter, 1.2 mm thickess wire, round cross section Always use a padded lining
Hand Made Viking Helmet for Reenactors.   Double protection of the top of the helmet Face decorated by hammering Material thickness 1.5 mm for decoration, Theatre; 2 mm for reenactment Always use a lining Can be supplied with Reivetted Chainmail and lining for extra surcharge
Hand Made Viking Helmet with Matt Finish for Reenactment and Collectors. Double protection of the top of the helmet Material thickness 1.5 mm for decoration, theatre; 2 mm for reenactment Always use a lining
Hand made viking helmet for the re-enactment. Double protection of the top of the helmet Face is decorated with hammering Material thickness 1.5 mm for decoration and theatre, 2.0 mm for re-enactment Always use a lining
Hand made viking helmet for re-enactors.   Double protection of the top of the helmet Face decorated Material thickness 1.5 mm for decoration and theatre, or 2.0 mm for re-enactment Always use a lining