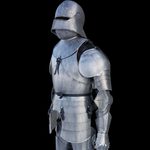 Hand made great helmet with brass. Partially blackened.
Material 1.5 mm thick steel plate
Horse Armour as a unique decoration for your home, business or, indeed, the stables.
material metal plate
size 23 x 51 cm
Combat Gauntlets. One pair of high-quality gauntlets that are fully usable in battles. 1.0 mm thick steel., leather gloves are not included in price. Hand made in the Czech Republic. Our Bestseller.
Material: 1.5 mm iron plate
Fully Functional Finger Gauntlets with Leather Glove Inserts. Steel thickness: 1.5 mm Leather gloves glued, and on the finger-tips sewn, onto the steel Double steel thickness on the back of the hands
Gorget and Pauldrons, two of the essential parts of medieval armour.
Width of the metal: 1.2 - 1.5 mm
Heavy Leather Bracer reinforced with Steel Strips. Designed and made by the swordsmen to swordmen - expect quality materials and functionality. Price if for one piece. Suitable for the Viking Age and Slavic re-enactment.
Please see the details and follow instructions at the beginning of this page. 
Leather bracer that is designed for a sword combat to protect your arm from wrist to elbow. Made from thick leather. Made by swordsmen to swordsmen.
Universal buckles that can be used for an armour, bags, bracers, scabbards etc. Material: tin and zinc alloy Size approx. 2.5 x 3 cm Suitable for belts 1.3 cm wide
Replica of a Hungarian shield. Inspired by shields from Gladiatoria (15th century German manuscripts), similar shields were common in central European countries. size 190 x 630 mm
Aluminium PLATE ARMOUR  for Filmmaking, Theatre etc. Lightweight (so the actors do not end up hating the director) and crafted as a real medieval knight armour. Not made for reenactment as the aluminium will not provide protection in live action fighting. Material: aluminium Fully functional for…
SOLARIS, medieval fist shield.
LORIC, Medieval Gauntlets.
Material thickness: 1.5 mm
ROBERT, Great helm from the Middle Ages.
Material: 1.5 mm thick steel plate
Armet Helmet. Collectible replica. This helmet is not suitable for re-enactment fights.
Material thickness: 1.2 mm (18 gauge steel)
Detailed information: chainmail shirt length: 95 cmchest circumference: 140 cmsleeve length: 27 cmring diameter: 8 mmwire thickness: 1.2 mmwire cross section: roundfinish Ring: none - oileddirect import: Wulflund
Very accurate reproduction of plate armor from the year 1485, Germany. Material thickness: 1.5 mm armor is polished. Armor is made to order, the usual waiting period of 8-10 weeks. Expect precise work, as well as full functionality during re-enactment events. Czech production. Source: http://www…
Kettle hat.
Material thickness: 1.5 mm
Helmet with visor, decorated with brass.
Material 2 mm steel plate, brass