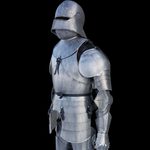 Combat Gauntlets. One pair of high-quality gauntlets that are fully usable in battles. 1.0 mm thick steel., leather gloves are not included in price. Hand made in the Czech Republic. Our Bestseller.
Leather bracer that is designed for a sword combat to protect your arm from wrist to elbow. Made from thick leather. Made by swordsmen to swordsmen.
This Imperial Gallic Face helmet is a copy of an original museum helmet that is now part of the Shelby/White Collection NY USA. The helmet is an early Augustian period cavalry helmet. The mask is of the Kalkriese type, which fits beneath the cheek guards and it does not include integral ears.
Inspired by Maximus's bracers in the movie Gladiator, this item is not a historical reproduction (there is no evidence of roman people wearing any kind of leather bracers), but only a simple adaptation from a known movie. It's shape makes it agreable to wear. It had been done by hand, from the…
High Quality Roman Leather BRACERS with Lion's Head and Lacing covering the whole forearms. Material leather, pewter Width 20.5 cm Adjustable Price is per pair
High quality hand made Roman leather bracers with a bronze eagle (Aquila). Length: 20.5 cm. Price is per pair.
The lorica segmentata (segmented cuirass) is a type of personal armor used by soldiers of the Roman Empire. Material thickness: 1.2 mm.
Gladiator´s armour with aluminium phalerae.
Reenactor's Roman Legionaire's helmet.  
Universal oil - well-tried and unequalled for maintaining metal, wood, leather, rubber, synthetic material, and much more. Ideally suited for handicraft, industry, agriculture, household, gardening, vehicles, fishing, hunting and shooting sports.
The perfect oil for the long-term preservation of bare metallic parts, even in extreme conditions (-50°C up to 100°C). This oil creeps between metal and moisture, infiltrates hairline cracks, cleans, keeps surfaces smooth, does not get sticky or resinify either. Gunex is free from silicone,…
Replica of the Lough Henney helmet, now deposited in the Ulster museum. The original of the helmet was found on a battlefield at Lough Henney and was worn by an Irish gallowglass. Material 1.5 mm blackened steel, brass
Montefortino type Celtic - Roman helmet.  Collectible replica.  
Collectible quality Roman helmet, the Imperial Gallic H, Augsburg-Oberhausen. This helmet is classified by Robinson as Imperial Italic H and is one of the best-preserved Roman Imperial helmets to have survived from antiquity. The Gallic H has different style eyebrows and a more sloping neck…
Reproduction of a Roman cavalry helmet, found in Xanten, now in Germany. The original is now exhibited in the Landesmuseum in Bonn.
Fully functional polished medieval finger gauntlets for combat. You will appreciate their anatomical flexibility. Made in the Czech Republic by the top class armourer (MH).
Abrasive cloth for blades and surfaces of armour.
Example of a custom made helmet. We can make almost any helmet you can imagine. Please contact us with your design.