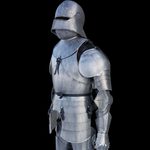 Combat Gauntlets. One pair of high-quality gauntlets that are fully usable in battles. 1.0 mm thick steel., leather gloves are not included in price. Hand made in the Czech Republic. Our Bestseller.
Leather bracer that is designed for a sword combat to protect your arm from wrist to elbow. Made from thick leather. Made by swordsmen to swordsmen.
Reproduction of a Scottish Shield (original: National Museum of Scotland). These shields, also called "targe",  were used by Jacobites in battles against the English. Size: 48 cm in diameter
Reproduction of a Scottish Shield. These shields, also called "targe",  were used by Jacobites in battles against the English.
Universal oil - well-tried and unequalled for maintaining metal, wood, leather, rubber, synthetic material, and much more. Ideally suited for handicraft, industry, agriculture, household, gardening, vehicles, fishing, hunting and shooting sports.
The perfect oil for the long-term preservation of bare metallic parts, even in extreme conditions (-50°C up to 100°C). This oil creeps between metal and moisture, infiltrates hairline cracks, cleans, keeps surfaces smooth, does not get sticky or resinify either. Gunex is free from silicone,…
Replica of the Lough Henney helmet, now deposited in the Ulster museum. The original of the helmet was found on a battlefield at Lough Henney and was worn by an Irish gallowglass. Material 1.5 mm blackened steel, brass
Fully functional polished medieval finger gauntlets for combat. You will appreciate their anatomical flexibility. Made in the Czech Republic by the top class armourer (MH).
Abrasive cloth for blades and surfaces of armour.
Example of a custom made helmet. We can make almost any helmet you can imagine. Please contact us with your design.
Size of each leather lamella: 4 x 8 cm. Price is for the size of L. Accurate price will give you when we receive your measurements.
Fencing Glove (leather combat gauntlet) exceptional quality to reduce the risk of injury of the hand during sword combat. Made by fencers for the fencers. Great emphasis has been placed not only in the thickness of the material, but also on the anatomy of gloves - you can grip sword easily. Price…
Wooden shield of the Pictish tribes. Shield is made from plywood and forged iron shield boss. Orders for custom made shields are accepted - you can order shield with linen on the surface, with rawhide edges - plain shield or painted shield after your request. Price for the shield is without…
STEEL GAUNTLETS with elongated protection of forearm. Material: 1.5 mm thick steel. Ergonomically shaped parts of fingers.
Part of armour for the re-enactment purposes, only NATURAL procuts are used like in the past time. Medieval GAMBESON is made using 100% cotton,75% wool, 100% linen (density of up to 260 g to 1 м2). Base of some products consists of 4 layers of batting.