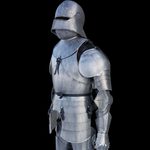 Kettlehat Helmet - norman helm. For theatre and LARP. Do not use for full contact fight.
Thickness of material: 1.3 mm
Replica of the Lough Henney helmet, now deposited in the Ulster museum. The original of the helmet was found on a battlefield at Lough Henney and was worn by an Irish gallowglass. Material 1.5 mm blackened steel, brass
Example of a custom made helmet. We can make almost any helmet you can imagine. Please contact us with your design.
Wooden shield of the Pictish tribes. Shield is made from plywood and forged iron shield boss. Orders for custom made shields are accepted - you can order shield with linen on the surface, with rawhide edges - plain shield or painted shield after your request. Price for the shield is without…