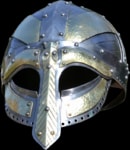 This Celtic Helmet is inspired by a collection piece at The Royal Armouries in The Tower of London. Material 18 gauge steel Rounded topknot and hinged cheek plates Size: 7.5" x 9" Circumference: 27" Weight: approx. 1.5 kg (3.30 lb)
Celtic Fantasy brass helmet. Richly decorated helmet for theatre and film.
Iron Age Celtic Helmet Port Bei Nedau, collectible replica.
Montefortino type Celtic - Roman helmet.  Collectible replica.  
Hand made CELTIC HELMET.  
Material 18 gauge steel
Manufactured in the Czech Republic
Replica of a Celtic Montefortino Helmet.
Iron Age (Celtic) helmet that is inspired by a find from France (Louviers Forest, Normandy), 1st century of Old Age.  
Price includes patina
Material 1 mm iron plate
Reproduction of a Celtic Helmet from Great Britan, the so called Meyrick Helmet. This reproduction is made from iron with patina Handmade in the Czech Republic
Large hemispherical iron helmet, decorated avantail is attached by rivets.  
Includes two bosses
Patinated
Made from 18 gauge steel
So called "Celtic helmet of Eastern type", originally made of brass. If you are interested in this product please contact us and we will send you a photo of the original helmet and more information. Price is for basic version (without patina and horse tail)
Gallic helmet for reenactors. The original was found on the locality of Bela Cerkev (Slovenia) and it is one of the most famous helmets in Celtic literature. The bosses are decorated with images of birds.   Material: iron with patina