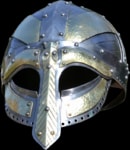 After taking care of your tools, weapons and armour, take care of your skin. The insider's tip of the household remedies consists of time-proven natural ingredients and medically pure white mineral oil. It is still produced in exactly the same composition today as it was 70 years…
The perfect oil for the long-term preservation of bare metallic parts, even in extreme conditions (-50°C up to 100°C). This oil creeps between metal and moisture, infiltrates hairline cracks, cleans, keeps surfaces smooth, does not get sticky or resinify either. Gunex is free from …
Universal oil - well-tried and unequalled for maintaining metal, wood, leather, rubber, synthetic material, and much more. Ideally suited for handicraft, industry, agriculture, household, gardening, vehicles, fishing, hunting and shooting sports.
Abrasive cloth for blades and surfaces of armour.
Example of a custom made helmet. We can make almost any helmet you can imagine. Please contact us with your design.