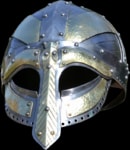 This Imperial Gallic Face helmet is a copy of an original museum helmet that is now part of the Shelby/White Collection NY USA. The helmet is an early Augustian period cavalry helmet. The mask is of the Kalkriese type, which fits beneath the cheek guards and it does not include integral ears.
The Coolus helmet is a type of Celtic and Romanbrass helmet. Like the Montefortino helmet this helmet was of Celtic origin.
Material brass
Weight 1.5 kg
A galea is a Roman soldier's helmet, whose desing was inspired by Celtic helmets.
Reenactor's Roman Legionaire's helmet.  
Roman Praetorian or Tribune's helmet, of collectible replica quality.
Collectible quality Roman helmet, the Imperial Gallic H, Augsburg-Oberhausen. This helmet is classified by Robinson as Imperial Italic H and is one of the best-preserved Roman Imperial helmets to have survived from antiquity. The Gallic H has different style eyebrows and a more sloping neck…
Historically accurate and authentic design, copy of the Imperial Italic, D. Mainz Roman helmet. Suitable for reenactors. Made of 18 gauge steel  
Collectible replica of a Roman gladiator's helmet.  
Reproduction of a Roman cavalry helmet, found in Xanten, now in Germany. The original is now exhibited in the Landesmuseum in Bonn.
Montefortino type Celtic - Roman helmet.  Collectible replica.  
This GLADIATOR HELMET is a copy of a helmet found in Pompeii (now deposited in Museum of Naples). IMPORT. Intended for the thetre or as a decoration. Material 18 gauge steel Weight 3.5 kg ( 7.7 lbs)
Handmade gladiator helmet. For theatrical combat.
Material 1.5 mm thick steel    
Can be made with patina (see picture) or polished