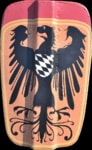 Greek metal shield - hoplon, covered with leather. Diameter: 58 cm.
Roman early imperial legionary shield. Size: 84 x 106 cm.
Wooden shield from the late Roman period. Shield is made from plywood and forged iron shield boss. Orders for custom made shields are accepted - you can order shield with linen on the surface, with rawhide edges - plain shield or painted shield after your request. Price for the shield is…
UMBO, ROMAN SHIELD BOSS, Hexagonal. Size: 13 cm diameter of umbo boss (space for hand). Overall size circa: 20 x 25,5 cm. 2 mm thick iron plate. Handmade.
Roman, respectively gladiator living history shield. Height: 70 cm. Materials: plywood, forged iron umbo, iron edging, convex shape.