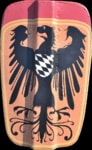 Size: height 60 x 80 cm. Three layers of 3mm thick high quality beech plywood was used.
Roman early imperial legionary shield. Size: 84 x 106 cm.
Exclusive hand made shield with the BOHEMIAN LION (double tailed lion) as an interior decoration. Size circa 45 x 54 cm. Iron plate with patina.
Wooden shield from the late Roman period. Shield is made from plywood and forged iron shield boss. Orders for custom made shields are accepted - you can order shield with linen on the surface, with rawhide edges - plain shield or painted shield after your request. Price for the shield is…
Well hand-crafted shield for the Czech patriots all over the world. The shield is covered by the red leather and the Two Tailed Lion is made from the brass. Made in the Czech Republic.
Hand made shield with the double-tailed lion - national symbol of Bohemia (part of the Czech Republic).  Size of the shield: ca 50x60 cm.  Thickness 0.8 - 1mm.  For decorative purpose or LARP fighting.
Roman, respectively gladiator living history shield. Height: 70 cm. Materials: plywood, forged iron umbo, iron edging, convex shape.