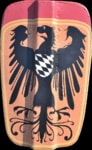 Medieval HMB shield. Made of three layers of beech plywood, thickness 3 mm,  overall thickness: 9-10 mm. Size: 71 cm x 37 cm. Coated with linen and trimmed with rawhide.
We manufacture custom made shields, shields for your re-enactment and family crests.
This shield we manufacture for veterans of USAF.
Contact us for your request: wulflund@gmail.com
A shield (pavise), late XV. Century. Shield is made of wood and linen. Height 60 cm. Handmade in the Czech Republic. Custom made paintings are ACCEPTABLE.
Norman shield - X. - XII. century. Materials: plywood, linen, rawhide. Constructed for re-enactment combat. Height: 125 cmWidth: 53 cm
Size: height 60 x 80 cm. Three layers of 3mm thick high quality beech plywood was used. Shiled is covered by linen and rawhide.  Used mostly by HMB fighters.
Roman early imperial legionary shield. Size: 84 x 106 cm.
Wooden shield from the late Roman period. Shield is made from plywood and forged iron shield boss. Orders for custom made shields are accepted - you can order shield with linen on the surface, with rawhide edges - plain shield or painted shield after your request. Price for the shield is…
Roman, respectively gladiator living history shield. Height: 70 cm. Materials: plywood, forged iron umbo, iron edging, convex shape.