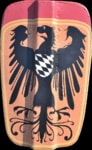 Roman early imperial legionary shield. Size: 84 x 106 cm.
Wooden shield from the late Roman period. Shield is made from plywood and forged iron shield boss. Orders for custom made shields are accepted - you can order shield with linen on the surface, with rawhide edges - plain shield or painted shield after your request. Price for the shield is…
LH wooden shield (plywood) hidden in 2 layers of linen and rawhide around. Forged umbo. Diameter 70 cm, but can be also custom made.
Handmade replica of a Germanic Shield Boss. Thickness of the material: 2.5 - 3.0 mm.
Special shield boss for re-enactors. Shield Boss of Germanic Type for attaching to your shield. Size: cca 19.5 cm in a diameter, 1 mm thick.
Roman, respectively gladiator living history shield. Height: 70 cm. Materials: plywood, forged iron umbo, iron edging, convex shape.