CLOTHING - Military, Law Enforcement and Outdoor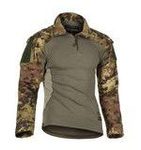 CLOTHING - Military, Law Enforcement and Outdoor
Adjustable baseball cap equipped with a set of soft Velcro panels for ID/morale patches and other items. Intended for use in hot weather conditions. Mid-depth cut works with variety of LE/Mil headgear systems. Velcro panels dimensions: FRONT: 7 x 4 cm TOP: 6 x 5,5 cm REAR: 4,5 x 4 cm Adjustment…
BUSINESS CARD 3D velcro patch. material PVC size 85 X 55 mm velcro on reverse
ANGRY EYES 3D velcro patch. material PVC size 25 X 21.4 mm velcro on reverse
PUNISHER ACE OF SPADES 3D velcro patch.
material PVC
size 67 x 44 mm
velcro on reverse
3D ZOMBIE ATTACK Rubber Velcro Patch.
material PVC
size 44 x 77.4 mm
IN EMERGENCY 3D velcro patch bearing useful instructions.
material PVC
size 70 x 43 mm
velcro on reverse
NO FEAR PIRATE HEXAGON 3D velcro patch.
material PVC
size 38 x 32.9 mm
velcro on reverse
HELM OF AWE 3D velcro patch. Helm of Awe or Helm of Terror (Ægishjálmur) is one of the Icelandic magical symbols. It is believed to possess powerful qualities of protection against evil or injustice. It was used by warriors to induce fear in their enemies' hearts and to prevail in battle. material…
3D Thor's Hammer Blackops Patch with velcro on reverse. Perfect to add a little edge to your patrol cap, boonie hat, Assault Pack, jacket, vests, helmet and more! material PVC size 54.3 x 70 mm
DRAKKAR DRAGON SHIP AT NIGHT 3D velcro patch.
material PVC
size 80 x 62.4 mm
velcro on reverse
Embroidered Velcro Patch.
British Pith Helmet in sand colour. Replica of the original tropical helmet used mainly by Europeans and especially by the British and French during colonial expansion. Material cotton, leather One size Very comfortable, lightweight and breathable Leather strap under the chin on the…
Multi Terrain Face Paint Set of 5 colours.
Covenient round case
75 mm diameter
Integral mirror
Weight 50g
Stealth Baseball Hat in the colours of English Oak in junior size. British made Breatha-tex Stealth fabric (100% polyester) is waterproof and windproof, breathable and silent Velcro adjuster One size Duckbill peak
Men's Elite Gloves in green colour by Viper Tactical. Neoprene lined for added comfort Carbon Fibre Knuckle Casing Textured Grip Panels Inner Fleece Lining Vented Palm and Knuckle Velcro Closure
Men's Shooting Socks in green color with matching garters by JACK PYKE OF ENGLAND.
material akrylic/wool blend
fits sizes 8-11
Czech Lion Patch with velcro.
Size: 7.5 x 9 cm
Velcro
Material: cordura
Colour: camouflage
Rubber patch of "Mad and Bad Wolf".
Size: 6,5 x 6,7 cm
3D
Velcro