Baselayer Shirt Long Sleeve, Clawgear
The perfect next to skin shirt for year round use featuring 'No Melt - No Drip' performance.

This innovative baselayer shirt is incredibly comfortable due to its ergonomic and next-to-skin fit. Cordura Baselayer fabric has been developed for military use and provides maximum moisture management.  Comfortable and versatile in all climates, perfect for year round wear.  The breathability and super soft surface ensures a convenient feeling during long lasting operations.  Amazing strength-to-weight ratio with impressive tear strength.   Won't melt or drip like polyester.  Helps protect against flash burn and reduces burn injuries severity by charring.
No Melt, No Drip performance
Quick drying and breathable
Maximum moisture management
Feels like cotton but dries faster and has higher strength-to-weight ratio
Lightweight and perfect wearing comfort
Athletic fit
Applicable for any climate condition
Cordura Baselayer (60% cotton, 40% polyamide)
Related products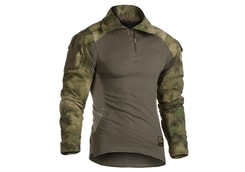 $113.75
Catalogue number: TOR16
Unavailable