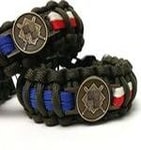 PRAKTIK Multifunctional Pocket Knife with linerlock, contains bottle opener/screwdriver, can opener, cross screwdriver, pike and ring for attaching to a belt. material: blade - stainless steel 420, 53-55 HRc, handle - plastic ergonomic handle manufacturer Mikov, Czech Republic
CROCODILE Pocket KNIFE with Backlock for everyday use, very light, resistant handle fits perfectly in the hand. material stainless steel blade 420-53-55 HRc, handle plastic manufacturer Mikov, Czech Republic
BRIGAND Knife with Sheath for work, outdoors as well as fishing.  material blade stainless steel 420, 53-55 HRc, handle hardened plastic manufacturer Mikov s.r.o., Czech Republic
FANG Knife with Guard and Leather Sheath favourite with outdoorsy people and hunters, ergonomical handle. material: blade, guard - stainless steel 420, 53-55 HRc, handle - hardened plastic manufacturer Mikov, Czech Republic
RESCUE Automatic Multifunctional Knife for the Emergency forces as well as difficult situations in everyday life. Easy to open with one hand. Includes standard blade, rescue blade, hook for safe cutting of seat belts, hammer for breaking glass, glass knife and belt klip. Tested by the Czech…
DIVER Multifunctional Knife for Divers with Nylon Sheath mainly for emergency situations underwater. Contains tearing hook, partially serrated blade and glass hammer/breaker in handle. material: blade stainless steel 440A, HRc 565 hook for tearing fishing nets etc. partially serrated blade for…
Bullet shaped stainless steel vacuum flask by Jack Pyke of England. Volume 500 ml Flip top closure Keeps liquid warm for hours 28 cm high 6.8 cm wide
7 in 1 Outdoor Emergency Survival Whistle, includes compass, thermometer, magnifying glass, mirror, small LED light and small storage compartment. material ABS length 9.8 cm diameter 3 cm weight 58 g
Special Operations Carabina in green colour by Viper Tactical.
3 way Molle attachment
Material ABS
Price per pair
Tactical Whistle by Viper Tactical.
Material ABS
lightweight and minimal size
with bungee cord
Stainless Steel Hip Flask by JACK PYKE.
volume 8 oz/235 ml
screw lid top
Savanna Knife with Fixed Stainless Steel Blade by JACK PYKE. blade stainless steel, handle rosewood, sheath nylon total length 35 cm (13.5") blade length 22 cm (8.5") includes blade sharpener and firestarter
The Gerber Tactical Downrange Tomahawk is a marvel of simplicity and efficiency in service of solving serious problems. It's just a well thought-out design and centuries of Gerber craftsmanship in your hands without extraneous gadgets to get in the way.Triple-Purpose Axe HeadThere's no arguing…
Tomahawk Spike Hawk by Cold Steel.
Morakniv Green Fixed blade - Stainless Steel - Green. Blade Stainless steel Handle Polyamide Sheath Plastic Weight: 134 g Overall length: 226 mm Blade length: 109 mm Blade thickness: 2.5 mm Country of origin: Sweden
REXIT, the rapid entry and exit tool. A forged breaching tool designed by professionals for professionals. Police, SWAT and firemen who need an all in one tool for forced entry/exit tool that they can depend on, need the REXIT. It comes in tactical powder coated matte black or fire engine red.…
Magnum WOODCRAFT knife by Böker, Germany. Magnum by Böker-Knives of this series are unsurpassed by the price-performance ratio.  Material of the blade: 440-A Material of the handle: wood Overall length: 20.7 cm Blade: 8.3 cm Width of the blade: 3 cm Weight: 214 g
This special edition is based on one of our top sellers, the Elk Hunter model. However, this new version features ebony wood and durable rosewood as grip scales. The satin-finished 440A steel blade is thinly ground. This attractive knife also includes an elaborate leather sheath with pushbutton…
Böker Plus Piranha - knife.
Material of the blade: 440-C
Material of the handle: G-10
Overall length 15.5 cm
Blade: 7.5 cm
Thickness of the blade: 3.9 cm
Weight: 101 g
Magnum Caveman Damascus knife.
Material of the blade: Damascus steel
Material of the handle: wood
Overall length: 19.4 cm
Blade: 8.2 cm
Width of the blade: 2.7 cm
Weight: 209 g