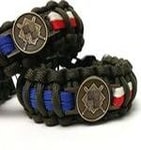 Stainless steel hip flask by Jack Pyke of England.
volume 8 oz/235 ml
height 14.5 cm
screw top
Bullet shaped stainless steel vacuum flask by Jack Pyke of England. Volume 330 ml Flip top closure Keeps liquid warm for hours 24 cm high 6.8 cm wide
Special Operations Carabina in green colour by Viper Tactical.
3 way Molle attachment
Material ABS
Price per pair
Tactical Whistle by Viper Tactical.
Material ABS
lightweight and minimal size
with bungee cord
Stainless Steel Hip Flask by JACK PYKE.
volume 8 oz/235 ml
screw lid top
The Gerber Tactical Downrange Tomahawk is a marvel of simplicity and efficiency in service of solving serious problems. It's just a well thought-out design and centuries of Gerber craftsmanship in your hands without extraneous gadgets to get in the way.Triple-Purpose Axe HeadThere's no arguing…
REXIT, the rapid entry and exit tool. A forged breaching tool designed by professionals for professionals. Police, SWAT and firemen who need an all in one tool for forced entry/exit tool that they can depend on, need the REXIT. It comes in tactical powder coated matte black or fire engine red.…
Magnum Caveman Damascus knife.
Material of the blade: Damascus steel
Material of the handle: wood
Overall length: 19.4 cm
Blade: 8.2 cm
Width of the blade: 2.7 cm
Weight: 209 g
SURE SPLIT® WEDGE. This unique 5 lb wedge has a revolutionary concept in design which makes splitting wood fast and easy. This wedge has a fast taper head for easy starting. The Sure Split® fins permit extra wedge action and the sledge will continue through out below the wood line for sure…
Collapsible Stash Bottle 750ml, Hydrapak.
Paracord bracelet with the Wolf Cross (bronze).  The bracelet is made of high quality parachute cord at 4mm in diameter, which has a capacity up to 250kg.  When untied,  the bracelet works as rappel for lowering in case of emergency, it can be used for medical purposes (fixing plates) or…
The Gerber Machete Junior is easy to carry given its compact and light weight design. Small enough to fit inside a backpack. 18.75 inch total length. The Gator Machete sports our proprietary Gator rubber grip for ergonomic control while using either the fine edge blade on one side, or the saw on…
The ultimate multitool is part of the Gerber Bear Grylls Survival Series of gear. This collaboration brings together Gerber's 70-plus years of knife and gear expertise with Bear Grylls' extensive outdoor survival and adventure experience to create a one-of-a-kind line of knives, tools, and gear. …
Gerber Gator Bush Machete Built with full tang construction, the Bush is Gerber's version of the classic multi-purpose design. The Gator Bush Machete's sturdy handle wrapped in the classic Gerber Gator Grip keeps it snug in your hand while being leveled at underbrush. This knife expertly helps you…
Water Bottle, Element. 110 g.
Electric Glow Stick, Emerson, red. 30 g.
Leather Black Eagle Tomahawk Axe is designed for sportsmen and military professionals. The lightweight design makes it easy to carry. The Black Eagle Tomahawk is perfectly balanced and weighted, and made to last, with a genuine leather grip. American forged in one piece out of genuine American…
Paracord bracelet with the Czech Army emblem.  The bracelet is made of high quality parachute cord at 4mm in diameter, with a load bearing capacity of up to 250kg.  When untied,  the bracelet works as rappel for lowering in case of emergency, it can be used for medical purposes (fixing plates) or…
Paracord bracelet with the Czech Police emblem.  The bracelet is made of high quality parachute cord at 4mm in diameter, with a load bearing capacity of up to 250kg. When untied the bracelet works as rappel for lowering in case of emergency, it can be used for medical purposes (fixing plates) or…