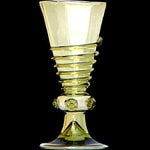 Replica of a Roman jug from Cologne, Germany, 3rd Century. Volume up to 1l. Height 25 cm. Circumference in the widest part 42 cm.
Roman Glass Vessel.
Height approx. 7 cm
overall lenght approx. 8 cm
Upper diameter approx. 11,5 cm
Hand blown green glass amphora. Height approx. 24 cm, height incl. the forged stand 30 cm.