Green Glass from Historical Forrest Glass, which is late medieval glass produced in northwestern and central Europe between cca 1000–1700 CE. It used to be made in forrested areas and it is characterized by a greenish color, the beautiful effect caused by the fact that the glassmakers had access to different resources than e.g. Venetian craftsmen.
volume: 400 ml
height: 15 cm
crafted in a small Bohemian family glassworks
The photographs are for illustration purpose only. Our products are hand made and as such they may differ in their appearance and dimensions. Please contact us if you would like to know the exact look and size of your chosen product.
Related products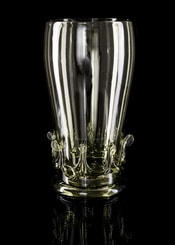 $35.19
Catalogue number: HGS114
In stock