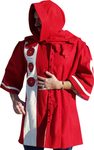 These trousers were sewn for purposes of Historical Iron Age (Celtic) Re-enactment group DAOINE CEILTE. It means that they are hand-sewn and material 100% comes from the nature (wool). Machine sewn trousers will be cheaper. It is also possible to use for Celtic trousers linen. We can discuss what…
100% linen, trousers are 100% wool.
Watch details and follow instructions concerning taking of measurements at the beginning of this page. Thank you.