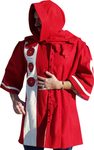 Woolen viking pants, exact reconstruction of pants found in Birka (Sweden), used mainly by Swedish vikings called Varangians in the East. The amount of woolen cloth used reflects something about wealth of their owner. These trousers offer very comfortable wearing. All visible stitches are hand sewn…
Woolen viking tunic decorated with embroidery regarding design from Gotland (Sweden). You can close up the slit at the neck with brass clasp, which looks nice and you will find it handy during winter. All visible stitches are hand sewn with linen thread. We are suppliing the tunic in sizes: S, M, L…
Woolen viking hood, replica from Skjoldehamn (Norway,X - XI. Century). Hood is outsewn with linen cloth and all visible stitches are hand sewn with linen thread. Very practical not only during winter, you find it comfortable during long sitting along the campfire in the summer nights while…
Woolen pants were traditional base of every male clothing. Used colours were carefully picked as those are the most common colours used in medieval fashion. Pants are sewn from very comfortable wool and are flexible with excellent mobility.Required measurements: Circuits of thigh, knee, calf, ankle…
Viking woolen tunic decorated with embroidery. All visible seams are sewn by hand.
Medieval Tunic made from wool.
Comfortable baroque (renaissance) trousers made of thin wool, cloth buttons. All visible seams are sewn manually. Material: wool Please let us know these measurements: waist circumference calf circumference trousers length - from waist to under your knee distance
White renaissance shirt. Material: cotton Plese let us know these measures: B, H, A, L (see this image)
Material and colour depends on you. Consult measurements with us.
Welsh Bowman Costume with Scalloped Edge Hood, custom made. coat – duvetyn, no lining hood – duvetyn with cotton lining the costume consists of the coat and the hood
Medieval Jacket with Rosemberg Rose, custom made. Once we receive your order we will contact you to ask for the required measurements. The House of ROSENBERG (Rožmberkové) was a mighty Bohemian noble family, playing an important role in Czech medieval history. They owned, among other places, the…
Grim Reaper - Death, Costume. Required measurements: body height.
PADDED GAUNTLETS, used material is linen, leather and wool. Price is for a pair. Approx. 1.3 cm thick and 32 cm long. Made in the Czech Republic.
These trousers were sewn for purposes of Historical Iron Age (Celtic) Re-enactment group DAOINE CEILTE. It means that they are hand-sewn and material 100% comes from the nature (wool). Machine sewn trousers will be cheaper. It is also possible to use for Celtic trousers linen. We can discuss what…
Another part of costume that we have delivered to Iron Age Celtic Group DAOINE CEILTE (from Prague) ... it is hand-sewn woolen tunic. Split (under neck) is free flappy ... you can clasp it by one of our Iron Age fibulas. Web link to this group: www.dobazelezna.wz.cz They will be surely very glad…