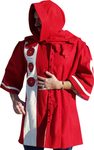 Woolen viking pants, exact reconstruction of pants found in Birka (Sweden), used mainly by Swedish vikings called Varangians in the East. The amount of woolen cloth used reflects something about wealth of their owner. These trousers offer very comfortable wearing. All visible stitches are hand sewn…
Woolen viking tunic decorated with embroidery regarding design from Gotland (Sweden). You can close up the slit at the neck with brass clasp, which looks nice and you will find it handy during winter. All visible stitches are hand sewn with linen thread. We are suppliing the tunic in sizes: S, M, L…
Woolen viking hood, replica from Skjoldehamn (Norway,X - XI. Century). Hood is outsewn with linen cloth and all visible stitches are hand sewn with linen thread. Very practical not only during winter, you find it comfortable during long sitting along the campfire in the summer nights while…
Viking woolen tunic decorated with embroidery. All visible seams are sewn by hand.
Watch details and follow instructions concerning taking of measurements at the beginning of this page. Thank you.
Woolen wrappings for fixing of your feet. Suitable for Viking and Slavic costumes. Price is set for a pair. In a category of brooches you can find small fibulae for this product.
Button from the deer's antler - best buttons for medieval or LARP costumes. Average size: 5,5 cm.