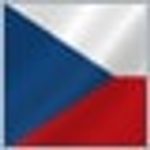 Medieval Dagger made of quality high carbon spring steel. material 54SiCr6 steel case hardened 52-53 HRC overall length 33.5 cm blade 21 cm blade is blunt, we can deliver sharp on request manufactured by Wulflund
Medieval Dagger with Pommel and Leather Hilt. material high carbon spring steel 54SiCr6, leather case hardened to 52-53 HRC overall length 33.5 cm blade 21 cm BLUNT blade, we can deliver SHARP on request manufactured by Wulflund
Medieval Dagger made of quality high carbon spring steel. material 54SiCr6 steel case hardened 52-53 HRC overall length 33.5 cm blade length 21 cm blunt blade, can be delivered sharp on request
Hand Made Viking Helmet for re-enactor's and collectors featuring double protection of the top of the helmet and decorated face as well as: raised edges for eyes for better deflection of strokes convex nasal and frontal head stripe parts of helmet (fields) are tempered and hardened  helmet…
Medieval Dagger made of quality high carbon spring steel. Material: 54SiCr6 steel Case hardened: 52-53 HRC Overall length: 33.5 cm Blade length: 21 cm Blade is blunt, we can deliver sharp on request Manufactured by Wulflund
Medieval Dagger with Pommel and Leather Hilt. high carbon spring steel 54SiCr6 case hardened to 52-53 HRC overall length 33.5 cm blade length 21 cm blade BLUNT, we can deliver SHARP on request manufactured by Wulflund
Hand made viking helmet for re-enactment and training. Manufactured by Wulflund. Double protection of the top of the helmet Material thickness 2 mm Aventail length 20 cm, riveted chains 8 mm in diameter, 1.2 mm thickess wire, round cross section Always use a padded lining
Hand Made Viking Helmet for Reenactors.   Double protection of the top of the helmet Face decorated by hammering Material thickness 1.5 mm for decoration, Theatre; 2 mm for reenactment Always use a lining Can be supplied with Reivetted Chainmail and lining for extra surcharge
Medieval Dagger made of quality high carbon spring steel. Materiál: 54SiCr6 steel Case hardened: 52-53 HRC Overall length: 33.5 cm Blade length: 21 cm Blade is blunt, we can deliver sharp on request Manufactured by Wulflund
Heavy Leather Bracer reinforced with Steel Strips. Designed and made by the swordsmen to swordmen - expect quality materials and functionality. Price if for one piece. Suitable for the Viking Age and Slavic re-enactment.
Hand Forged VIKING or ANGLO-SAXON SCRAMASAX (seax knife) that is, in a blunt version, constructed especially for re-enactment. Material: 54SiCr6 high carbon spring steel, hardness approx. 55 HRC Pommel riveted Overall length: 65 cm Blade: 50.5 cm Weight: 1 kg Made by Arma Epona Smithy,…
Medieval Mace for HMB. Head mace diameter 11 cm   Head mace height 8 cm Overall length 51 cm Weight approx. 1 kg Manufactured by Arma Epona Smithy
Medieval Shield for HMB, oval. It is based on shields used in the 14th and 15th centuries. The shield is for protection as well as attack as you can strike a blow with it. The edges made of rawhide. The shield is held by a system of leather belts. The body is made  of three layers of oak plywood.…
LORIC, Medieval Gauntlets.
Material thickness: 1.5 mm
Battle ready replica of a hand and a half sword. material: spring steel 54SiCr6 hardness approx. 50 - 52 HRC overall length 121 cm blade length: 95 cm width of the guard: 22 cm width of the blade: 3.6 cm point of balance approx 7 cm below the guard weight: 1,5 kg
Medieval Hand and a half Sword with Hand-stitched Leather Hilt. Manufactured by Arma Epona smithy, Czech Rep. Material high carbon spring steel 54SiCr6 Hardness 52-54 HRC
HMB medieval falchion designed and constructed for full contact battles (HMB). The length of the sword: 83 cm, length of the blade: 65 cm. Guard width: 18.5 cm. Blade width at the guard: 4.3 cm. Weight: around 1.55 kg. Balance Point: 12.4 cm. Made of high carbon steel CSN 14260 (54SiCr6). Hardened…
Very accurate reproduction of plate armor from the year 1485, Germany. Material thickness: 1.5 mm armor is polished. Armor is made to order, the usual waiting period of 8-10 weeks. Expect precise work, as well as full functionality during re-enactment events. Czech production. Source: http://www…
Danish Officer Sword Replica from the 16th century.
Overall length 115 cm
Blade length 99 cm
Weight 1.6 kg
Kettle hat.
Material thickness: 1.5 mm