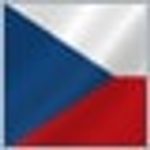 Are you looking for something really special for instinctive throwing? Vengeance Throwing Knives might hit the spot! Tested by 5-times World Champion Adam Celadin. They are perfect for any technique and specially for instinctive throwing! Length:25 cm (9.84 in) Thickness:8 mm (0.315 in) Weight:280…
Our handmade Knife in Leather Sheath with Leather Handle uniquely combines knife making and leathercraft. Spring steel body is dressed in stitched leather to form a luxurious tactile grip. This compact knife is designed for those who appreciate nice design and good quality. Material: 54SiCr6…
Set of TWO SHOT GLASSES crafted from so-called forest glass. Each piece is slightly different, the set is hand made in a family glassworks. Forest glass is late medieval glass produced in northwestern and central Europe between cca 1000–1700 CE. It used to be made in forested areas and it is…
Stylish Leather Belt Bag with Vendel Motives and Bone Buckle. High quality of craftsmanship. Bone Strap End Replica of a 9th-10th century original excavated in the region of the former Danelaw in England. material leather, bone inside space  17×14×5 cm total height 17.5 cm hook for belt 8 cm…
Sterling SILVER Vegvísir VIKING RUNE Pendant. VEGVÍSIR, meaning That Which Shows the Way, is an icelandic magical rune intended to help the bearer find their way through rough weather. If this sign is carried, one will never lose one's way in storms or bad weather, even when the way is not…
Handpainted Shamanic Frame Drum handmade of high quality materials, which lend our drums a great sound. Material: spruce wood and deer skin Diameter: 40 cm Height: 8 cm You can order a textile case and a beater as well
Collach CELTIC BOAR Silver PENDANT. Wild boar is, besides birds of prey, the most frequently depicted animal in Celtic art. This indicates that it had a special significance in society. The available archaeological and numismatic evidence also strongly suggests that boar hunts may have played an…
COLLACH CELTIC BOAR Silver Pendant. Wild boar is, besides birds of prey, the most frequently depicted animal in Celtic art. This indicates that it had a special significance in society. The available archaeological and numismatic evidence also strongly suggests that boar hunts may have played…
FENRIR VIKING WOLF T-shirt with the quote "Where wolf's ears are, wolf's teeth are near" from the Volsunga Saga, c.19. Material 100% cotton T-shirt by Gildan, USA Detailed design Quality print Printed in the Czech Republic
Sterling SILVER SPARTAN HELMET PENDANT. pendant of helmet of one of the most feared military forces in the Greek world.. This is SPARTA!  Material: sterling silver Size: 1.9 x 2.7 cm Size of hidden bale: 4 x 6 mm
Druid Sickle Silver Pendant.
Material: sterling silver
Size: 1.2 x 3.3 cm
PATRIOT - Bohemia, T-Shirt.
Detailed design
Quality print
Manufactured by Naav fashion brand
Printed in the Czech Republic
Bronze medieval buckle. Lost wax casting method.
Dimensions: 26 x 41 mm
For 11 mm wide straps
No piece of jewellery is ordinary and the most valuable of them should fulfill at least the following criteria: high quality of craftsmanship, careful choice of materials and an original design. We dare say this jewel meets them all and has even more. It contains history and a soul that has…
This roman phallic pendant is crafted on the basis of an artefact discovered in Rome (2nd-3rd century). These pendants were widespread in the whole Roman Empire with the largest collection found in the Roman settlement Camulodunum (now in England). This is a fairly universal amulet protecting the…
Polished large cow signal horn. Product includes luxury leather holder with a shoulder strap.
Hand made leather bag with vendel ornaments.
Dimensions: 17 x 19 cm x 4 cm.
So called Troll Cross is a strong protective symbol of the old Scandinavian folklore. It protects people, animals and homes against evil and it will help you in a forrest if you encounter trolls and other unfriendly creatures. The pendant is based on the rune called Othila, a strong Germanic…
Viking crow - a drinking horn. The carved ornaments are inspired by archeological findings from Gnezdovo, Russia. The horn is polished and treated with a food safe lacquer. Material: cow horn Volume: approx. 0.4 l You can also order a forged stand for this horn.
Vendel warrior - drinking horn. Carved ornaments are inspired by findings from Valsgärde grave, Sweden. The inside surface has been treated with a special colourless food-safe lacquer. Volume: 0.3 l