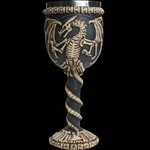 Charge of Victory - Medieval Coasters.
Material: hardened resin
Height: 11.5 cm
Imported from the UK
Decorative medieval cushion with woven motif of a medieval king Charles IV.
Material: Polyester / rexor
Filling: polyester flakes
Color: burgundy
Dimensions: 35x30cm
Knight's Gauntlet. Height: 23 cm. Material: resin. Imported from the UK.