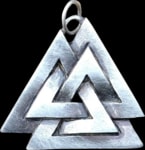 BISON Carved Antler Pendant.
Talisman - Aztec calendar. Pendant is additionally provided with a thin layer of resin, which largely prevents the oxidizing of the metallic constituents of the amulet.
Material tin alloy
2.8 cm in diameter
EAGLE - native American forged necklace. Eagle as a symbol of agility, strength and ferocity. Strong waxed cord, red and tin beads are included. made of alloy of tin, zinc and other metals, covered with antimony size approx. 3 x 11 cm
INDIAN FEATHER, talisman. Popular Native American symbol as a pendant.
Material tin alloy (pewter), coppered
Size approx. 1.7 x 7.6 cm
Native American Talisman.
Material tin alloy, covered with antimony and patinated
Size 1.5 x 4.5 cm
"The Indian lotus flower" is a talisman for regeneration, maintaining youthfulness and beauty, and it is a symbol of eternal renewal and vitality. Wearing this talisman gives women a sense of confidence, security and magical appeal.  Material: brass and copper alloy Size: 3 cm