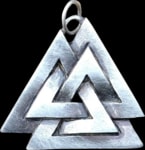 A DOMOVOI (or Domowik) is a house spirit in Slavic folklore. In Slavic mythology every house is said to have its own house dwarf. The DOMOVOI is a guardian of the house and he sometimes helps with household chores or work in the garden.  He also symbolizes  prosperity. He likes to live under the…
Fenrir - the Viking Wolf - is one of our most distinguished products. The design is inspired by the Borre Viking art style (named after the locality in Norway, 9th-10th century). Wolf symbolizes strength, endurance and freedom.Fenrir is the eldest son of the God Loki and the Giantess Angrboda. The…
A beautiful piece inspired by Slavic early Medieval finds of the Great Moravian Empire. Vesna is according to Slavic Mythology the Goddess of youth, life, beauty, love and the spring. Material sterling silver Size 3 x 3.7 cm, bale6 mm in diameter Weight 9 g On request we can place a gem of…
An excellent reproduction of Raven Head Thor Hammer found in Kabara, province of Scania, Sweden. Original model was made by filigree and granulation. Thor's Hammer, or Mjöllnir, is God Thor's magical weapon. The hammer is unbreakable, it always hits the target and then comes back to the owner's…
Replica of an old Slavic jewel - Lunitsa (also Lunula or Luneta). The original was found near the city of Stare Mesto, Uherske Hradiste, the Czech Republic, the 9th century, Great Moravian Empire (first state of western Slavs). Symbol of Lunitsa (or Lunula - little moon) is a female symbol. Such…
Lime (Linden) Leaves as a bronze pendant. The tree has become an official panslavic symbol at the Panslavic gathering in Prague in 1848.   Material: bronze Size: 3.6 x 5 cm Bail on the reverse
Thor's Hammer - a bronze replica of a hammer from Romersdal, Denmark, which is exhibited at the Danish National Museum in Copenhagen. Thor's Hammer, or Mjöllnir, is God Thor's magical weapon. The hammer is unbreakable, it always hits the target and then comes back to the owner's hand. The hammer…
A replica of a Slavic pendant - Axe of Perun. Archaeological finds of these amulets are common in many Slavic countries. The Axe of Perun is a pendant shaped like a battle axe. It may be found in certain parts of Scandinavia and modern day Russia. Perun is a pre-Christian God of Thunder and…
Once, there was nothing. The only thing that existed in eternal darkness was the Golden Egg. Inside it was Rod, the Creator, giver of life to everything in the exsistence, sleeping. The first thing Rod created was Love, the Goddess Lada, and then, having broken the walls of his prison with the…
Kolovrat, Sun wheel of Svarog - a symbol of the Sun, Life, and the constant circulation of nature and the Universe. It can be found in nearly all ancient mythology, including Slavic. Our ancestors used to wear Kolovrat around their necks, sewn on their clothing and war flags and carved on their…
The horned Celtic God Cernunnos Medallion. The Gundestrup Cauldron from Denmark served as an inspiration for the design. Cernunnos is often portrayed with the antlers of a stag seated cross-legged, surrounded by animals and holding or wearing torcs. He was revered as a protector of animals, …
Viking bracelet inspired by a real artefact from Burg, the isle of Gotland, Sweden. Please choose your size, we will make a bracelet that will be easy to put on and off without the need to bend it. If you do need to adjust the bracelet shape, please hold it just above the terminal heads, otherwise…
Fenrir - the Viking Wolf. The fate of this mythological wolf is to fight with Odin during Ragnarök. Jewel is inspirated by the viking art style Borre (named after the locality in Norway, IX. - X. century). Pendant is large (2.1. x 4 cm) and massive. Wolf symbolizes the strength,…
The Green Man is most commonly considered to be the God of Nature. He symbolizes new beginnings, rebirth and never ending cycle. Material bronze Size 1.7 x 3.9 cm Original design by Katien.
Fenrir the Viking Wolf Silver Pendant is one of our most distinguished products. The design is inspired by the Borre Viking art style (named after the locality in Norway, 9th-10th century). Fenrir is, according to the Norse mythology, the eldest son of the God Loki and the Giantess Angrboda.…
Discounted set of 24 pieces of Runic Pendants, with a free leather cord for each piece. For re-sellers and for those looking for a larger amount of presents. Material: pewter
Discounted set of 25 pieces of Celtic Pendants, with a free leather cord with each piece. This set is intended for re-sellers of our merchandise, and it will aslo be a good choice, if you are looking for a set of gifts (children camps, schools, company presents etc.). Material: Pewter
Discounted set of 10 pieces of Viking Pendants for re-sellers and for a those looking for a set of presents. Free leather cord with each piece.
Replica of a Perun Axe (Poland).  Archaeological finds of these amulets are common in many Slavic countries.   The Axe of Perun is a pendant shaped like a battle axe.  It may be found in certain parts of Scandinavia and modern day Russia.   Perun is a pre-Christian god of thunder and lightning…
Replica of a Perun Axe (Poland).  Archaeological finds of these amulets are common in many Slavic countries.   The Axe of Perun is a pendant shaped like a battle axe.  It may be found in certain parts of Scandinavia and modern day Russia.  Perun is a pre-Christian god of thunder and lightning and…