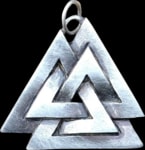 Height of the helmet: 2,5 cm. Material: white metal.
Helmet - pendant with an adjustable visor.
Material tin alloy
Length 5 cm
Spirals and knots, favourite Celtic motifs. (For example, look up the flag of Isle of Man, Great Britain). Number 3 had different meanings in the lives of the Celts, possible interpretation are - three stages of our existence, or the three elements - fire, water, air. Leather cord included. …
A talisman, entwined with celtic knots on each shoulder of the pendant. Size: 5 cm.Material: white metal and glass matter.
Mjöllnir is a magical weapon, which belongs to the god Thor. According to the legend, the hammer can only be held by Thor himself and Magni, his son, who has to wear a pair of magical gloves and a belt with it. Mjöllnir means "crusher". Material: white metal. Size: 2,5 cm.
Length: 5,3 cm. Material: white metal.
An almost demonic looking skull made with fitted glass with openings for a cord at the back of the skull. Material: white metal and glass Length: 2.2 cm
Length: 5,5 cm. Material: white metal.
A 5,5 cm tall amulet... Not everyone can see the trilobite (all it needs, is a little bit of imagination) :) I'll give you a hint - the eyes are next to the hole for the string.
Ah yes, we will all go one day. It is time to get familiar with this friendly figure...
Material white metal and glass
Height 3 cm
An axe pendant, a symbol of strength and power.
Material: white metal and glass
Length: 6 cm
"Tree of Life" is a symbol of the beginning, the heavenly paradise, immortality and continuous rebirth. Foundation of the world and the cosmic axis. As a talisman, it is supposed to consolidate multiple properties shown in the pattern. Paradise is a symbol of abundance and wealth. It serves to…
Fairly massive Triquetra pendant, resistant to mechanical straining. One of the meanings of Triquetra (from latin tri - three, and quetrus - horn) is "an inseparable bond".  Material pewter Height 4 cm 
Inspired by a real Scandinavian motive. Pendant has 3 cm in diameter. Material: brass.
Knotted Celtic herons - symbolize harmony and peace, a European equivalent of the Yin Yang symbol. In Egypt heron is considered to be the creator of light. A double headed heron is believed to be a symbol of prosperity. In the Chinese culture the bird is the symbol of strength, purity, patience and…
Thor's Hammer, or Mjöllnir, is God Thor's magical weapon. The hammer is unbreakable, it always hits the target and then comes back to the owner's hand. The hammer flies through the sky in the form of a lightning. The word Mjöllnir means "grinder or crusher". To be able to handle the hammer Thor…
Oak Leaf KEYCHAIN carved out of deer antler. Oak was considered a sacred tree in  Germanic and Celtic mythologies. material deer antler lenght approx. 4 cm
Egyptian Stella Matternicha was in the form of a stele placed in the homes of ancient Egypt, for the protection of life, health, family and property. Should ensure continuous safety within the house. Amulet is designed for those, who leave their house - for protection against ambush on the road,…
"Kabbalistic Pentacle of the Queen" is a prophet's coin which summons the lost fiancée, announces the engagement and wedding. Marriage brings happiness and helps preserve love and happiness in the family. This talisman, given to someone else, induces a sense of reciprocity, interest and love.…