OM TIBETIAN SYMBOL, pendant
OM TIBETAN SYMBOL Pendant. OM is an ancient Indian and Tibetan symbol. It appears in various religions and beliefs and comes from Buddhism and Hinduism. The emblem consists of a representation of a magical character - a mantra, facilitating experience of the state of enlightenment and oneness with the Highest. OM placed on a lotus flower, puts one in a state of reassurance and gives strength. It is a symbol of the absolute, unity and wisdom.
Pendant is treated with a layer of resin to prevent oxidation.
Material: brass and copper alloy
Size: 3 cm
Related products
$60.78
$51.66
Catalogue number: CAK11
In stock
$41.58
$35.35
Catalogue number: CAK06
In stock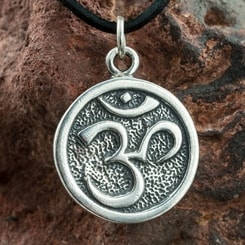 $58.65
Catalogue number: FTJ107
In stock