SIGURMUNDUR, Thor's Hammer, forged Damascus steel, pendant
Hand forged Thor's hammer for those of you who preffer original - not casted jewels. Mjöllnir is a magical weapon, which belongs to the god Thor. According to the legend, the hammer can only be held by Thor himself and Magni, his son, who has to wear a pair of magical gloves and a belt with it. Mjöllnir means "crusher".
This Mjollnir was born in a fire from coal and steel. Made from Damascus steel.  Size: 5.5 x 6.5 cm, diameter of a hole: 20 mm.
Related products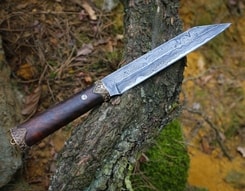 $421.18
Catalogue number: KNI170
3-5 weeks