bronze and brass replicas - jewellery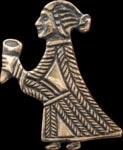 Bronze and brass replicas - jewellery
CZECH LION Large Bronze Pendant, the symbol of the double-tailed lion is the old heradlic symbol of Bohemia. The facial expression of this lion is not of a mute national symbol, it overflows with pride, fighting spirit and a proper portion of anger. Today the state may not be in an optimum…
Roman Hand PENDANT inspired by an artefact found in Germania Superior (imperial province of the Roman Empire). Similar hand-holding-a-small-ball pendants were also discovered in Celtic settlements and they are still worn today, for example in Italy, to protect the wearer against evil forces. …
Bronze Roman Phallic Pendant inspired by an artefact from the 2nd or 3rd century CE. Phallic pendants were very comon, the largest collection comes from the Roman settlement of Camulodunum (now in England). It is a fairly universal amulet against evil forces and it is also belived to support…
Scythian Deer Brooch Replica. The original from the 7th century BCE, crafted in gold, was discovered in the Kuban basin area, Russia, where best Scythian art artefacts were found. Nomadic Scythians used to live in the steepes of southern part of Russia. Material: bronze Size: 3.1 x 4.5 cm
Czech Border Patrol Dog, 1930, bronze pednant.
bronze
dimensions: 2.1 x 2.6cm
This is SPARTA! Bronze pendant of a Spartan helmet. For warriors who are interested in European heritage. Material: bronze Size: 1.9 x 2.7 cm Size of hidden bale: 4 x 6 mm
SPARTAN SHIELD Bronze Pendant.
Material: bronze
Size: 3 cm
ROMAN BUCKLE for belts.
Material brass
Size 6.6 x 8.7 cm
House of ROSENBERG ROSE BRONZE Pendant. Five petal rose was a symbol of the House of Rosenberg (Rožmberkové in Czech), a significant and influential Bohemian noble family, who played an important role in Czech medieval history. It was the Rosenbergs who influenced the appearance of southern Bohemia…
Roman Pendant inspired by gold Ancient Roman necklace from the 2nd century.
Material: bronze
Size: 1.6 x 3.6 cm
Bronze Roman Phallic Pendant inspired by a golden Roman pendant from the 2nd or 3rd century CE. Phallic pendants were very comon, the largest collection comes from the Roman settlement of Camulodunum (now in England). It is a fairly universal amulet against evil forces and it is also…
Czech Lion Bronze Pendant, crafted using the method of lost wax casting. Czech lion as a state symbol of the Czech Republic. According to a legend a son of a Czech prince called Bruncvík (Brunswick) decided to gain a more noble symbol for his coat of arms. He travelled the world with his retinue…
Medieval King's helmet Bronze PENDANT inspired by an artwork of the Gulhausen kodex. This is the helm of Premysl Ottokar II (1233 – 1278) a Czech king, called The Iron and Golden King.  He was the Duke of Austria, Styria, Carniola and Carinthia.  Material bronze Size 2.9 (height) x 4 cm Bale on…
Aquila Roman Eagle Pendant, a symbol of ancient Rome and an important part of standards of the Roman legions. Its loss was a shame for the whole legion for many generations. Roman soldier holding an Aquila was called Aquilifer. Bail on the reverse. Material: bronze Size: 2.8 x 3.1 cm Bale size: 4…
Replica of a Roman Bronze Fibula found in a Roman military camp in Musov, Moravia region, Czech Republic, near the Austrian border. material: bronze length: 3.3 cm width: 3.1 cm height: 1.1 cm
Replica of a Roman Legionary Bronze Fibula, typology: Almgren 247. This replica was found in Musov, South East of the Czech Rep., 80 km from Vienna, the site of a Roman military settlement on the hill Burgstall, the 2nd century CE. The 10th Roman Legion based here was to control the Germanic tribes…
Hand Casted Exact Copy of Roman Fibula found in the Czech Republic. Lost-wax casting. Material: bronze Lenght: approx. 6 cm Weight: 12.5 g