bronze and brass replicas - jewellery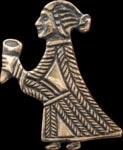 Bronze and brass replicas - jewellery
Bronze medieval buckle. Lost wax casting method.
Dimensions: 26 x 41 mm
For 11 mm wide straps
Valknut - bronze viking pendant. The Valknut (pronounced "VAL-knoot") is one of the most widely discussed yet enigmatic of all of the Norse mythological symbols. It appears on several runestones and pictorial memorial stones from the Viking Age on the Swedish island of Gotland, as well as on…
Our Seated THOR Pendant was originally a Thor's bronze figure, 6.4 cm high, seated on the throne and holding Thor's hammer, found near the area of Akureyri, Iceland, cca 1 000 CE. The figure is now exhibited at the National Museum in Reykjavik. The chain or cord is led through under Thor's head. …
An excellent reproduction of Raven Head Thor Hammer found in Kabara, province of Scania, Sweden. Original model was made by filigree and granulation. Thor's Hammer, or Mjöllnir, is God Thor's magical weapon. The hammer is unbreakable, it always hits the target and then comes back to the owner's…
CZECH LION Large Bronze Pendant, the symbol of the double-tailed lion is the old heradlic symbol of Bohemia. The facial expression of this lion is not of a mute national symbol, it overflows with pride, fighting spirit and a proper portion of anger. Today the state may not be in an optimum…
Fenrir the Viking Wolf PENDANT as a symbol of strength, endurance and freedom. The design is inspired by the Borre Viking art style (named after the locality in Norway, 9th-10th century). The fate of this mythological wolf is to fight with Odin during Ragnarök. One of our most distinguished…
Slavic Lunitsa Pendant Replica from the time of the Great Moravian Empire (9th century CE). The original was found near Stare Mesto, Czech Republic. Lunitsa (Little moon), also known as Lunula or Luneta, is a female symbol of fertility, good fortune and a happy life, Slavic and Viking ladies…
Reproduction of Iron Age Pendant, practically unknown as the original, from cca the 1st century BCE, is owned by a private collector. Exceptional piece of art that combines trislele (three realms) with feminine lunulae symbols. The original was found probably somewhere on continental Europe …
Bronze medieval buckle.
Dimensions: 32 x 36 mm
For 22 mm wide straps
Lost wax casting
Czech product
Bronze medieval buckle. 15th Century buckle inspired by a Hans Memling painting. Lost wax casting.
Material bronze
Dimensions: 33 x 34 mm
For 19 mm wide straps
Lost wax casted replica of Viking Bronze Buckle. Inspired by a buckle found in Norway dating back to the 10th century, crafted in the Borre Viking art style.  Material: bronze. Size: 2.9 x 3.4 cm For belts 1.5 cm wide Weight: 20 g
Lime (Linden) Leaves as a bronze pendant. The tree has become an official panslavic symbol at the Panslavic gathering in Prague in 1848.   Material: bronze Size: 3.6 x 5 cm Bail on the reverse
Thor's Hammer - a bronze replica of a hammer from Romersdal, Denmark, which is exhibited at the Danish National Museum in Copenhagen. Thor's Hammer, or Mjöllnir, is God Thor's magical weapon. The hammer is unbreakable, it always hits the target and then comes back to the owner's hand. The hammer…
Exclusive Bronze Battersea Pendant inspired by ornaments on the Celtic Battersea shield (the river Thames, London). The Battersea Shield is one of the most significant Celtic art artefacts found in Britain. It is a bronze covering of originally a wooden shield, decorated in La Téne style. Looks…
Bronze Taranis Wheel Pendant Replica of a Taranis wheel found in a Celtic settlement known as Stradonice Oppidum, SW of Prague, the Czech Republic. Taranis, one of the most powerful Celtic Gods, is associated with the natural forces such as the wind and lightning. Unusual pendants…
Viking Buckle and Strap End Reproduction. The original belt set was found in 1880 in a mound near the farm of Gokstad (Sandar, Norway). This burial site was very rich (tents, horse equipment, ships) and it is suggested that this mound belongs to the Norse king of Olaf Geirstad-Alf, the King of…
A more luxurious alternative to the common medieval buckles that are made today from tin alloys.
Material: bronze
Size: 3 x 3.5 cm
For belts of width: 1.5 cm
Norse God Frey Bronze Pendant. Frey, or Freyr, is associated with prosperity, sunshine and fair weather and is often pictured as a phallic fertility God. He is the son of Sea God Njörðr and Goddess Freyja's brother. He rides the shining boar Gullinburst. Material: bronze Height: 2.1 cm Photo of…
Bronze medieval buckle. Lost wax casting.
Dimensions: 25 x 34 mm
For 15 mm straps
Large unique and probably the first Thor's hammer in sci-fi necro-organic design. This Thor's hammer, or Mjolnir, is a synthesis of the human body (spine, pelvis) with body parts belonging to arthropods. Material: bronze Size: 4 x 5 cm