bronze and brass replicas - jewellery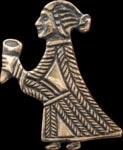 Bronze and brass replicas - jewellery
Slavic Lunitsa Pendant Replica from the time of the Great Moravian Empire (9th century CE). The original was found near Stare Mesto, Czech Republic. Lunitsa (Little moon), also known as Lunula or Luneta, is a female symbol of fertility, good fortune and a happy life, Slavic and Viking ladies…
Lime (Linden) Leaves as a bronze pendant. The tree has become an official panslavic symbol at the Panslavic gathering in Prague in 1848.   Material: bronze Size: 3.6 x 5 cm Bail on the reverse
Massive Bear Pendant for real bogatyrs who are happy to wear massive bronze jewels. The bear is decorated with typical early medieval ornaments which are known e.g. from Slavic and Viking bone carving on tools and knives. Material: bronze Height: 3 cm
SLAVIC SVARGA (the Sun), symbol of the God Svarog - the God of Sun and Fire.
Material: bronze
Size: 2.8 cm
Roman Hand PENDANT inspired by an artefact found in Germania Superior (imperial province of the Roman Empire). Similar hand-holding-a-small-ball pendants were also discovered in Celtic settlements and they are still worn today, for example in Italy, to protect the wearer against evil forces. …
The Great Moravian period inspired pendant. Lada is considered the Slavic Goddess of harmony, merriment, youth, love and beauty. Material: bronze and a gemstone (blue ijolite) Size: 3.3 cm in diameter
Bronze Roman Phallic Pendant inspired by an artefact from the 2nd or 3rd century CE. Phallic pendants were very comon, the largest collection comes from the Roman settlement of Camulodunum (now in England). It is a fairly universal amulet against evil forces and it is also belived to support…
DOMOVOI (or Domowik) is, in Slavic folklore, a house spirit, a guardian of the house who sometimes helps with household or field work. Every house is said to have one. He lives under a threshold or under the stove. It is important to maintain a good relationship with Domovoi, you can present them…
SLAVIC SVARGA (the Sun) symbol of the God Svarog - the God of Sun and Fire.
Material: bronze
Size approx. 3 cm
Scythian Deer Brooch Replica. The original from the 7th century BCE, crafted in gold, was discovered in the Kuban basin area, Russia, where best Scythian art artefacts were found. Nomadic Scythians used to live in the steepes of southern part of Russia. Material: bronze Size: 3.1 x 4.5 cm
Beautiful feminine Bronze Slavic Pendant with Lapis Lazuli, inspired by early Medieval artefacts from the 9th century CE, the time of the Moravia Magna (Great Moravian Empire), locality Stare Mesto, Na Valach, Czech Republic.  According to Slavic Mythology Vesna is the Goddess of Youth, Life,…
Bronze Strap End Replica from the Great Moravia period found in Stare Mesto, Czech Rep., dating back to 9th century.
Material: bronze
Length: 4.2 cm
Width: 2.3 cm
Cast on lost wax
This is SPARTA! Bronze pendant of a Spartan helmet. For warriors who are interested in European heritage. Material: bronze Size: 1.9 x 2.7 cm Size of hidden bale: 4 x 6 mm
Bronze ring, which is based on the findings of early medieval rings (Vikings, Slavs). Material bronze Width 9 mm Weight 12 g
VELES, Slavic Pendant. Veles is a major Slavic God of earth, waters, forests and the underworld. He is associated with cattle, he is oftern depicted with horns or as a being with a bull's head. Veles is aslo a symbol of the harvest, wealth, music, magic and trickery. This slavic God is believed to…
SMALL SLAVIC SVARGA (the Sun), symbol of the God Svarog - the God of Sun and Fire.
Material: bronze
Size: 2.5 cm
SPARTAN SHIELD Bronze Pendant.
Material: bronze
Size: 3 cm
LUDMILA Bronze Lunulae Shaped Earrings with Red Beads. Lunula (luna, the moon) could signify many things to our ancestors – fertility and growth, protection against evil, a young girl (a virgin) or an enchantress. A discovery of a Roman casting mold with a phallus and a lunula mold side by…
ROMAN BUCKLE for belts.
Material brass
Size 6.6 x 8.7 cm
ROHAN Bronze Ring for Early Medieval Period.