bronze and brass replicas - jewellery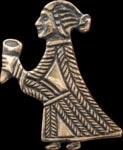 Bronze and brass replicas - jewellery
CZECH LION Large Bronze Pendant, the symbol of the double-tailed lion is the old heradlic symbol of Bohemia. The facial expression of this lion is not of a mute national symbol, it overflows with pride, fighting spirit and a proper portion of anger. Today the state may not be in an optimum…
Spear Pendant in the style of paleolithic or Indian spears.
Material: bronze
Size: 1.6 x 3.9 cm
Czech Border Patrol Dog, 1930, bronze pednant.
bronze
dimensions: 2.1 x 2.6cm
SOLAR ANKH - symbol of life, ancient amulet of Egypt.
Material bronze
Dimensions 2.5 x 5.5 cm
A pendant of Ankh,  also known as the Cross of Life. An egyptian hieroglyphic symbol for life, both earthly and eternal.
Material: bronze
Size: 1.7 x 3 cm
House of ROSENBERG ROSE BRONZE Pendant. Five petal rose was a symbol of the House of Rosenberg (Rožmberkové in Czech), a significant and influential Bohemian noble family, who played an important role in Czech medieval history. It was the Rosenbergs who influenced the appearance of southern Bohemia…
Czech Lion Bronze Pendant, crafted using the method of lost wax casting. Czech lion as a state symbol of the Czech Republic. According to a legend a son of a Czech prince called Bruncvík (Brunswick) decided to gain a more noble symbol for his coat of arms. He travelled the world with his retinue…
Medieval King's helmet Bronze PENDANT inspired by an artwork of the Gulhausen kodex. This is the helm of Premysl Ottokar II (1233 – 1278) a Czech king, called The Iron and Golden King.  He was the Duke of Austria, Styria, Carniola and Carinthia.  Material bronze Size 2.9 (height) x 4 cm Bale on…