bronze and brass replicas - jewellery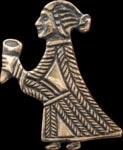 Bronze and brass replicas - jewellery
An excellent reproduction of Raven Head Thor Hammer found in Kabara, province of Scania, Sweden. Original model was made by filigree and granulation. Thor's Hammer, or Mjöllnir, is God Thor's magical weapon. The hammer is unbreakable, it always hits the target and then comes back to the owner's…
Lime (Linden) Leaves as a bronze pendant. The tree has become an official panslavic symbol at the Panslavic gathering in Prague in 1848.   Material: bronze Size: 3.6 x 5 cm Bail on the reverse
Thor's Hammer - a bronze replica of a hammer from Romersdal, Denmark, which is exhibited at the Danish National Museum in Copenhagen. Thor's Hammer, or Mjöllnir, is God Thor's magical weapon. The hammer is unbreakable, it always hits the target and then comes back to the owner's hand. The hammer…
Celtic Boar Pendant Replica of an artefact from Galia (Joeuvres, France), the 1st century BCE. Boar in Celtic culture represents strength of a man and a warrior, it is one of the forrest spirits. Material bronze Size 2.4 x 4cm
Spear Pendant in the style of paleolithic or Indian spears.
Material: bronze
Size: 1.6 x 3.9 cm
Collectible Bronze Thimble designed by South Bohemian designer Katien.
Material: bronze
Size: 1.7 x 1.8 cm
SOLAR ANKH - symbol of life, ancient amulet of Egypt.
Material bronze
Dimensions 2.5 x 5.5 cm
A pendant of Ankh,  also known as the Cross of Life. An egyptian hieroglyphic symbol for life, both earthly and eternal.
Material: bronze
Size: 1.7 x 3 cm
The horned Celtic God Cernunnos Medallion. The Gundestrup Cauldron from Denmark served as an inspiration for the design. Cernunnos is often portrayed with the antlers of a stag seated cross-legged, surrounded by animals and holding or wearing torcs. He was revered as a protector of animals, …
Celtic Brooch, fibula, la tene, bronze.
Bronze Replica of Germanic Fibula from the 6th century crafted using the lost wax casting method.
Material: bronze
Size: 5.5 x 7.7 cm
Brass Wolf Torques with bronze heads, a jewel of ancient kings, heroes, druids and the Gods. It is  designed for comfortable wearing and easily adjustable,  you can simply open and close it. The heads are casted from bronze. material bronze and brass  
The Green Man is most commonly considered to be the God of Nature. He symbolizes new beginnings, rebirth and never ending cycle. Material bronze Size 1.7 x 3.9 cm Original design by Katien.
Celtic Bronze RING Replica of a ring about 2,200 years old worn by a memeber of Boii tribes settled in Central Europe. The ring is yet another example of fine Celtic craftsmanship. The mold for the ring was created using the actual archeological artefact as opposed to a wax model. One size only.…