bronze and brass replicas - jewellery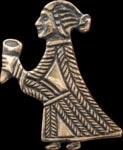 Bronze and brass replicas - jewellery
Roman Hand PENDANT inspired by an artefact found in Germania Superior (imperial province of the Roman Empire). Similar hand-holding-a-small-ball pendants were also discovered in Celtic settlements and they are still worn today, for example in Italy, to protect the wearer against evil forces. …
Bronze Roman Phallic Pendant inspired by an artefact from the 2nd or 3rd century CE. Phallic pendants were very comon, the largest collection comes from the Roman settlement of Camulodunum (now in England). It is a fairly universal amulet against evil forces and it is also belived to support…
Spear Pendant in the style of paleolithic or Indian spears.
Material: bronze
Size: 1.6 x 3.9 cm
Roman Centurion helmet as a pendant for fans of the ancient world.
Size: 1.8 x 2.3 cm
Material: bronze
SOLAR ANKH - symbol of life, ancient amulet of Egypt.
Material bronze
Dimensions 2.5 x 5.5 cm
ROMAN BUCKLE for belts.
Material brass
Size 6.6 x 8.7 cm
A pendant of Ankh,  also known as the Cross of Life. An egyptian hieroglyphic symbol for life, both earthly and eternal.
Material: bronze
Size: 1.7 x 3 cm
RABBIT Brooch Replica of a Roman fibula.
Material: bronze
Size: 32 × 21 mm
Weight: 5.4 g
Roman Pendant inspired by gold Ancient Roman necklace from the 2nd century.
Material: bronze
Size: 1.6 x 3.6 cm
Bronze Roman Phallic Pendant inspired by a golden Roman pendant from the 2nd or 3rd century CE. Phallic pendants were very comon, the largest collection comes from the Roman settlement of Camulodunum (now in England). It is a fairly universal amulet against evil forces and it is also…
Aquila Roman Eagle Pendant, a symbol of ancient Rome and an important part of standards of the Roman legions. Its loss was a shame for the whole legion for many generations. Roman soldier holding an Aquila was called Aquilifer. Bail on the reverse. Material: bronze Size: 2.8 x 3.1 cm Bale size: 4…
Replica of a Roman Bronze Fibula found in a Roman military camp in Musov, Moravia region, Czech Republic, near the Austrian border. material: bronze length: 3.3 cm width: 3.1 cm height: 1.1 cm
Replica of a Roman Legionary Bronze Fibula, typology: Almgren 247. This replica was found in Musov, South East of the Czech Rep., 80 km from Vienna, the site of a Roman military settlement on the hill Burgstall, the 2nd century CE. The 10th Roman Legion based here was to control the Germanic tribes…
Hand Casted Exact Copy of Roman Fibula found in the Czech Republic. Lost-wax casting. Material: bronze Lenght: approx. 6 cm Weight: 12.5 g