bronze and brass replicas - jewellery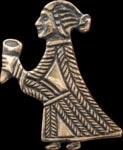 Bronze and brass replicas - jewellery
Celtic Boar Pendant Replica of an artefact from Galia (Joeuvres, France), the 1st century BCE. Boar in Celtic culture represents strength of a man and a warrior, it is one of the forrest spirits. Material bronze Size 2.4 x 4cm
Large unique and probably the first Thor's hammer in sci-fi necro-organic design. This Thor's hammer, or Mjolnir, is a synthesis of the human body (spine, pelvis) with body parts belonging to arthropods. Material: bronze Size: 4 x 5 cm
CELTIC BRONZE BELT BUCKLE. Celtic (La Tene) belt buckles were usually very simple. This is an exact replica of a Boii belt buckle from oppidum Stradonice, Bohemia, Czech Republic. Material: bronze Size: 2.2 x 3 cm Height: 1.5 cm Weight: 9 g
Unique Thor's Hammer inspired by geological formations in Iceland, Ireland and the Czech Republic. Thor's Hammer, or Mjöllnir, is God Thor's magical weapon. The hammer is unbreakable, it always hits the target and then comes back to the owner's hand. The hammer flies through the sky in the…
COLLECTOR'S VIKING BRACELET we designed at the instigation of the History Channel for the cast and the crew of the VIKINGS SERIES. This bracelet is twisted from brass wires, the beast head cast using the lost wax casting method, soldered together, all hand polished. The design is based on the…
SOLAR ANKH - symbol of life, ancient amulet of Egypt.
Material bronze
Dimensions 2.5 x 5.5 cm
Replica of a Celtic bracelet.
Material: bronze
Approximate size: 90×75 mm
Approximate weight: 80 g
Sun Circle, a bronze Celtic pendant inspired by an artefact uncovered at oppidum Zavist, Prague, the Czech Republic. Hidden bale pendant. Material: bronze Size: 2.5 cm
A pendant of Ankh,  also known as the Cross of Life. An egyptian hieroglyphic symbol for life, both earthly and eternal.
Material: bronze
Size: 1.7 x 3 cm
Celtic Brooch, fibula, la tene, bronze.
Viking Braided Bronze NECKLACE. This large and heavy beautiful piece of original jewelry includes Thor's hammer, terminals and braided chain. The hammer, or Mjolnir, is a perfect reproduction of Raven Head Thor Hammer that was found in Kabara, province of Scania, Sweden. Material bronze Size…
Authentic reproduction of a Viking TERMINAL for necklaces (specially for Thor's hammers). The original was found together with a hammer, or Mjolnir, in the locality of Ödeshög - Östergötland, Sweden. You can use the terminals for other jewelry items such as braclets. Material: bronze Size: 1 x…
Iron Age Bearded Man Celtic Bronze Pendant inspired by Early La Tene bronze "mask" fibula from Mikulovice, Eastern Bohemia, Czech Rep., a rare and unique European artefact dated back to 500-400 BCE. Motif of a head was very frequent and popular among the ancient Celts who kept their enemies heads…
Old Pagan Solar Cross inspired by an artefact from early medieval times of the Great Moravian Empire. In order to create a pendant as close to the original as possible we crafted its model by hand. Materal: bronze Size: 2,5 cm
Stylized Celtic Pendant with a beast, perhaps dragon's or boar's face. It is a replica of an Iron Age artefact from central Bohemia (Czech Rep.), locality of Skryje near the village of Podmokly where the famous Celtic treasure of golden Celtic coins was found. The original is deposited at the…
Celtic Bronze RING Replica of a ring about 2,200 years old worn by a memeber of Boii tribes settled in Central Europe. The ring is yet another example of fine Celtic craftsmanship. The mold for the ring was created using the actual archeological artefact as opposed to a wax model. One size only.…
Fully Functional Hand Casted Replica of Iron Age Fibula from Central Europe, Bohemia (locality of Stitary near the city of Kolin). Ideal for ladie's dresses, tunicas etc. Material: bronze Size: 3.6 cm
Replica of a Celtic Iron Age Talisman found near Losanky, Czech Republic. Similar pendants were quite frequent at the time. Method of hand casting was used. Material bronze Diameter 2.3 cm