bronze and brass replicas - jewellery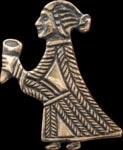 Bronze and brass replicas - jewellery
Scottish thistle as a national symbol of Alba (Scotland). Second only to tartan, nothing quite says 'Scotland' like this humble, prickly weed. A legend has it a sleeping party of Scotish warriors were saved from ambush by an invading Norse army when one of the enemies trod on the spiky …
Collach CELTIC BOAR Bronze Pendant. Wild boar is, besides birds of prey, the most frequently depicted animal in Celtic art. This indicates that it had a special significance in society. The available archaeological and numismatic evidence also strongly suggests that boar hunts may have…
Collach CELTIC BOAR Bronze Pendant. Wild boar is, besides birds of prey, the most frequently depicted animal in Celtic art. This indicates that it had a special significance in society. The available archaeological and numismatic evidence also strongly suggests that boar hunts may have played…
Bronze thistle brooch. Scottish thistle - second only to tartan, nothing quite says 'Scotland' like this humble, prickly weed. A legend has it a sleeping party of Scotish warriors were saved from ambush by an invading Norse army when one of the enemies trod on the spiky plant. His anguished cry…
Bronze pennanular celtic brooch with spiral pattern.
Material bronze
Size: 4 x 3 cm
Hand Twisted Brass Bracelet with Celtic Deer. The bracelet can be adjusted and it is very comfortable to wear. Material: brass The size of the terminal: 25 × 13 mm
Collach Brass Bracelet with Pictish Boars. The design is inspired by the rock carvings in Scotland (Dunadd) created by the Picts sometime during the Late Iron Age and Early Medieval periods. Boar was revered, especially by the Celts, for its strength, perseverance and courage.
The Celtic boar is a symbol of male power. The design is taken from Pictish carvings which were found near Dunadd, Scotland. The brass torques was designed for comfortable wearing. You can adjust the size easily. Torque (troq or torc) from Latin torques "to twist" is a common name for all rigid…
Draig - meaning "dragon" in Welsh. Torque (troq or torc) from Latin torques "to twist" is a common name for all rigid metal neck rings, that our ancestors had been wearing since the Bronze Age. Torcs were popular with the Romans and it is considered a typical Celtic artefact. It was a symbol of…