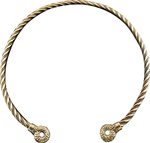 GRIFFIN, brass torc of our own design. It can be adjusted by bending. Griffin (also griffon or gryphon) is a legendary creature. It has a lion body, tail and back legs, while the wings and head belong to an eagle. Product of Wulflund, copyright. Material: brass
Hand Made Celtic Bronze Torc with Terminals inspired by artefacts discovered in the UK. A neck jewel of the ancient kings, warriors and druids. Torque (troq or torc) from Latin torques "to twist" is a common name for all rigid metal neck rings, that our ancestors had been wearing since the…
A Viking torques inspired by a real archeological find of the bracelet on the isle of Gotland, Sweden, locality of Burg. The original was crafted by twisting metal rods of various widths and it features stylized wolf or dragon heads.  Torque (troq or torc) from Latin torques "to twist" is a common…
Celtic Torc with Bull's Heads. Inspired by an artefact from Trichtingen, Baden-Württemberg, Germany, 350-100 BCE. Completly manufactured by Wulflund in the land of Celtic Boii tribes (Bohemia). Torc (troq or torque ) from Latin torques, to twist, is a common name for all rigid metal neck…
Large BRONZE TORQUES with Bear Heads. Torque (troq or torc) from Latin torques, to twist, is a common name for all rigid metal neck rings and it has been used since the Bronze Age. Torcs were popular with the Romans and it is considered a typical Celtic artefact. It was a symbol of both religious…
This exclusive Viking Brass and Garnet Torc (Torques or neck ring) with Two Raven Heads is handmade and is one of our most prestigious products. In Norse mythology Huginn (Thought) and Muninn (Memory) are ravens that fly all over the world and bring information to the god Odin. Migration…
Viking Torques Neck Ring with two Sea Dragon Midgardsormr Heads. Archeological finds featuring such sea dragons were unearthed in localities: Uppsala, Valsgärde, Sutton Hoo, Sweden. According to Norse mythology the God Odin threw the sea serpent into the ocean. The serpent grew so large that it…
Viking Dragon Jelling Brass Torques. Norse mythology contains several references to dragons, the most popular is Níðhöggr, the dragon which gnaws the roots of Yggdrasil, the mythical ash tree that connects the nine worlds in Norse cosmology. The torques is designed for comfortable wearing and…
Fianna Celtic Deer Torques, easily adjustable and light. Torque (troq or torc), from Latin torques - to twist, is a common name for all rigid metal neck rings, that our ancestors had been wearing since the Bronze Age. Torcs were popular with the Romans and it is considered a typical Celtic artefact…
Brass Torques with Viking Snake JÖRMUNGANDR. Migration Period golden bracteates, Vendel era helmet plates and Germanic Iron Age bird-shaped brooches all feature this Water Dragon, artefacts were found in Uppsala, Valsgärde and Sutton Hoo. According to Norse mythology Jörmungandr, or…
Celtic Cat Torques, was designed for comfortable wearing,  easy to adjust. Torque (troq or torc) from Latin torques "to twist" is a common name for all rigid metal neck rings, that our ancestors had been wearing since the Bronze Age. Torcs were popular with the Romans and it is considered a…
DREKI Brass TORQUES inspired by Viking art, easily adjustable and comfortable to wear. Torque (troq or torc), from Latin torques - to twist, is a common name for all rigid metal neck rings, that our ancestors had been wearing since the Bronze Age. Torcs were popular with the Romans and it is…
The Celtic boar is a symbol of male power. The design is taken from Pictish carvings which were found near Dunadd, Scotland. The brass torques was designed for comfortable wearing. You can adjust the size easily. Torque (troq or torc) from Latin torques "to twist" is a common name for all rigid…
Draig - meaning "dragon" in Welsh. Torque (troq or torc) from Latin torques "to twist" is a common name for all rigid metal neck rings, that our ancestors had been wearing since the Bronze Age. Torcs were popular with the Romans and it is considered a typical Celtic artefact. It was a symbol of…
FENRIR Hand Made Brass Torques with Wolf Heads.
Bronze Raven Skulls Torques. Because of its black plumage, croaking call, and diet of carrion, raven is often portray as harbinger of doom or death. However, according to legend, the Kingdom of England will fall if the ravens of the Tower of London are removed. And that is exactly what happened…
Unique Torque with T-Rex.
Material: brass and bronze
Brass Celtic Torques with Casted Bull's Heads. Inspired by an original artefact from Trichtingen, Baden-Württemberg, southwest Germany, 350-100 BCE. Material brass Size of head terminal: 2 x 2 cm
Brass Wolf Torques with bronze heads, a jewel of ancient kings, heroes, druids and the Gods. It is  designed for comfortable wearing and easily adjustable,  you can simply open and close it. The heads are casted from bronze. material bronze and brass