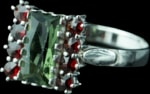 Luxurious Raw MOLDAVITE SILVER PENDANT. Made with pride in the Czech Republic (south Bohemia - homeland of moldavites) by Wulflund's artists. Please note that each moldavite is different, on request we can send you a photo of the pendant crafted for you. Material: steriling siver, moldavite …
Luxurious Moldavite Sterling Silver Pendant proudly made in the Czech Republic, the homeland of moldavites, by Wulflund. Each stone is an original work of Nature. Please take this illustration as an inspiration. We will send you a pendant with similar dimensions and shape…
Luxurious Moldavite Sterling Silver Pendant made with pride in the Czech Republic, the homeland of moldavites, by Wulflund's artists. Each stone is an original work of Nature. Please take this illustration as an inspiration. We will send you a pendant with similar dimensions and…
Luxurious Raw Moldavite Sterling Silver Pendant made with pride in the Czech Republic, the homeland of moldavites. Each stone is an original work of Nature. Please take this illustration as an inspiration. We will send you a pendant with similar dimensions and shape that is one-of-a…
Sterling silver pendant with real faceted moldavite (trillion cut).
Material sterling silver, moldavite
Height: 3.3 cm
Gem size: 8 x 8 mm
Sterling Silver Pendant with Faceted Moldavite of oval cut. Moldavite is a green meteorite glass that was formed during a meteorite impact 14.5 mil. years ago in the area of Nördlinger (Bavaria, Germany) where the crater of Ries was formed (24 km in diameter) as a result. It is supposed that the…
Sterling Silver Earrings with Genuine Faceted Moldavite  of Trillion Cut.
Material sterling silver, moldavite
Luxurious Raw Moldavite Sterling Silver Necklace handmade with pride in the Czech Republic, the homeland of moldavites. Each stone is an original work of Nature. Please take the photo as an inspiration. We will send you a pendant with similar dimensions and shape that is one-of-a…
Luxurious Moldavite Sterling Silver Pendant made with pride in the Czech Republic, the homeland of moldavites, by Wulflund's artists. Please take this photo as an inspiration. We will send you a pendant with similar dimensions and shape that is one-of-a-kind original, on request…
Luxurious Moldavite Sterling Silver Pendant made with pride in the Czech Republic, the homeland of moldavites by our artistis. Each stone is an original work of Nature, the photos are for illustration purpose only. We can send you a photo of a pendant crafted for you on request. Material…
Luxurious Moldavite Sterling Silver Pendant made with pride in the Czech Republic, the homeland of moldavites, by Wulflund's artists. Each stone is an original work of Nature so take this illustration as an inspiration. We will send you a pendant with similar dimensions and shape that is…
Luxurious Raw Moldavite Sterling Silver Pendant made with pride in the Czech Republic, the homeland of moldavites. Each stone is an original work of Nature. Please take this illustration as an inspiration. We will send you a pendant with similar dimensions and shape that…
Luxurious Raw Moldavite Sterling Silver Pendant. Made with pride in the Czech Republic, the homeland of moldavites, by Wulflund's artists. Each stone is an original work of Nature. Please take this illustration as an inspiration. We will send you a pendant with similar …
Luxurious Moldavite Sterling Silver Pendant. Proudly made in the Czech Republic, the homeland of moldavites. Each stone is an original work of Nature. Please take this illustration as an inspiration. We will send you a pendant with similar dimensions and shape that is one-of-a…
Luxurious Moldavite Sterling Silver Pendant hand made in the Czech republic, the homeland of moldavites. Each stone is an original work of Nature so take this illustration as an inspiration. We will send you a pendant with similar dimensions and shape that is one-of-a-kind…
Bohemian Raw Moldavite Sterling Silver Pendant. Every moldavite is different in size and shape, on request we can send you a photo of the pendant crafted for you. Material sterling silver, moldavite Weight of stone varies, in average 3.8 g Weight of silver approx. 2.3 g Height 35 mm
Luxurious Moldavite Sterling Silver Pendant handmade by Wulflund Jewellery in the homeland of moldavites - the Czech Rep. Please take this photo as an inspiration. We will send you a pendant with similar dimensions and shape that is one-of-a-kind original. On request we can send…
Raw Bohemian Moldavite Sterling Silver Pendant hand made by Wulflund in the homeland of moldavites - the Czech Rep. Please take this photo as an inspiration. We will send you a pendant with similar dimensions and shape that is one-of-a-kind original, on request we can send you a…
Luxurious Moldavite Sterling Silver Pendant made by Wulflund Jewellery in the homeland of moldavites - the Czech Rep. Please take this photo as an inspiration. We will send you a pendant with similar dimensions and shape that is one-of-a-kind original, on request we can send you a…
Raw Moldavite Sterling Silver Pendant made with pride in the Czech Republic, the homeland of moldavites, by Wulflund's artists. Each stone is an original work of Nature. Please take this illustration as an inspiration. We will send you a pendant with similar dimensions and…