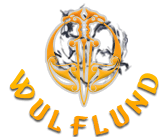 CELTIC BOAR, Neuvy-en-Sullias, pendant, 14K gold
Celtic Boar Gold Pendant. Inspired by an artefact found at the Loire River, France. Wild boar is, besides birds of prey, the most frequently depicted animal in Celtic art. This indicates that it had a special significance in society. The available archaeological and numismatic evidence also strongly suggests that boar hunts may have played an important role in Iron Age warrior initiations, forming part of the "rite of passage" rituals.
Material 14K gold
Size 2 x 2 cm (without bail)
Bail 4 x 8 mm for a cord/chain with a diameter up to 3 mm
Weight approx. 3.50 g
The price may vary according to the actual weight of the item
We will start working on the commission once we receive full payment beforehand. Once shipped, we don't accept any returns if the customer refuses/neglects to take over the parcel, or unless a serious reason is provided. We recommend to find out the customs fees and the possibility of gold import into your country.
Related products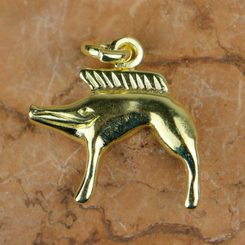 $24.52
Catalogue number: AGP12
In stock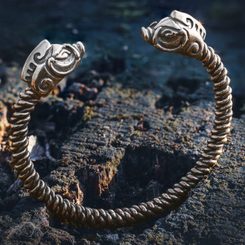 $51.18
Catalogue number: BHJ609
2-3 weeks