FENRIR Icelandic WOLF CROSS, 14K gold
FENRIR Icelandic WOLF CROSS 14K Gold Pendant. Inspired by an artefact found in Fossi, Iceland, 10th-11th century CE. On their raids Vikings also reached Iceland and brought with them unique Thor's Hammer amulets. One of them is thIS so called Wolf Cross, a cross like shaped hammer with a wolf head.
Our reproduction features more animalistic Viking wolf Fenrir.
Material: 14K gold
Size: 2.2 x 4.1 cm
Weight approx.: 14.3 g
The price may vary according to the actual weight of the item
We will start working on the commission once we receive full payment beforehand. Once shipped, we don't accept any returns if the customer refuses/neglects to take over the parcel, or unless a serious reason is provided. We recommend to find out the customs fees and the possibility of gold import into your country.
Related products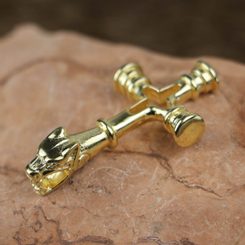 $29.86
Catalogue number: AGP15
In stock