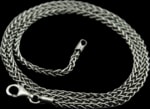 VIKING Sterling Silver Neck Chain.
Braided Leather Bolo with Viking Wolf's Heads Terminals. Inspiration: wolf cross from the locality of Fossi, Iceland. You can attach a pendant using the openings in the beast mouth. Fenrir is the eldest son of the God Loki and the Giantess Angrboda. The Gods have bound monstrous Fenrir but his…
Textile Cord for Jewelry with adjustable length.