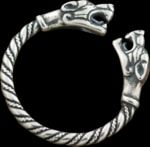 Horus Eye, ancient Egypt, silver pendant.
Size: 2.5 x 2.5 cm
Weight cca 3g
Material: sterling silver
ANKH, ancient Egyptian symbol of life.
Material sterling silver
Size 1.7 x 3 cm
Weight 3 g
WINGED ISIS, Egyptian Goddess, silver pendant. Isis is a Goddess of Ancient Egyptian religion. She is worshipped as mother and woman but also as a patron of magic and nature. Material sterling silver Size circa 2.0 x 3.5. cm Weight 5 g
Silver Ankh (Anch) Pendant.
Material sterling silver
Weight approx. 3 g
Size 1.8 x 3 cm