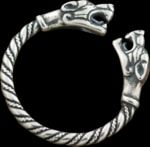 Collach CELTIC BOAR Silver PENDANT. Wild boar is, besides birds of prey, the most frequently depicted animal in Celtic art. This indicates that it had a special significance in society. The available archaeological and numismatic evidence also strongly suggests that boar hunts may have played an…
COLLACH CELTIC BOAR Silver Pendant. Wild boar is, besides birds of prey, the most frequently depicted animal in Celtic art. This indicates that it had a special significance in society. The available archaeological and numismatic evidence also strongly suggests that boar hunts may have played…
Silver Ring with Cat Heads. Material sterling silver Weight varies depending on the size, approx. 4 g Slightly adjustable Designed by Kati
CELTIC WOLVES - sterling silver pendant. In a typical Irish design (Book of Kells).
Size: 4 x 4,5 cm.
Weight 9 g
Material: sterling silver (Ag 925).
Silver Ring Decorated with Celtic Motif.
Material: sterling silver
Weight: 10 g
Mac Tíre CELTIC Wolf SILVER PENDANT, inspired by the art of the Book of Kells. Mac Tíre is the Irish expression for this impressive animal, in Ireland extinct, but still surviving in the Celtic mythology. Material sterling silver Size 2 x 4 cm Weight approx. 6 g
FIANNA, Celtic Deer, silver bracelet. Many stories of the Celts are conencted with deer. In some Scottish and Irish tales deer are seen as "fairy cattle" and are herded and milked by a tutelary, benevolent, otherworldly woman (such as goddess Flidais), who can shapeshift into the form of a red or…
Celtic boar is a symbol of power and men's fertility. Design is taken from Pictish carvings which were found near Dunadd, Scotland. Torc was designed for comfortable wearing. You can adjust the size easily. Torque (troq or torc) from Latin torques "to twist" is a common name for all rigid…
Beautiful and detailed pendant of an Irish harp.
Material silver 925

Size 3 x 1.6 cm

Weight 3.7 g

Silver Celtic Crow Pendant with Newgrange Spiral. The Celtic Godesses Badb, Macha and Nemain are associated with crows and ravens as well as Nantosuelta, the Gaulish Water and Healing Goddess. Newgrange (Sí an Bhrú, Ireland) is over 5.000 years old prehistoric monument, North of Dublin, that…
EAVAN, exclusive large silver necklace with amethyst. Material sterling silver, amethyst Size 2.7 x 7 cm Price includes silver adjustable chain Weight approx. 13 g
Silver Irish pendant. The Claddagh ring is a traditional Irish ring. The hands represent friendship, the heart represents love, and the crown represents loyalty. The design and customs associated with it originated in the Irish fishing village of the same name in Galway. Claddagh rings are…
IRISH CROSS, thick silver pendant.
Material sterling silver
Size cca 2,7 x 2,7 cm
Weight: cca 8 g
Silver Earrings with Newgrange Spiral. Newgrange is over 5000 years old prehistoric and pre-Celtic site in Ireland. The spiral is engraved into a stone in front of the entrance. Material sterling silver  Size circa 1.2 x 1.4 cm Weight of pair 5 g
Irish Newgrange Spiral as a Massive Silver Pendant. Newgrange (Sí an Bhrú) is over 5000 years old prehistoric site North of Dublin, Ireland. Material sterling silver Size approx. 2.3 x 3.2 cm Weight 9,9 g
Silver Celtic Knot Pendant with amethyst.
Material sterling silver, amethyst

Size: cca 1.6 x 3.3 cm

Weight 4.7 g